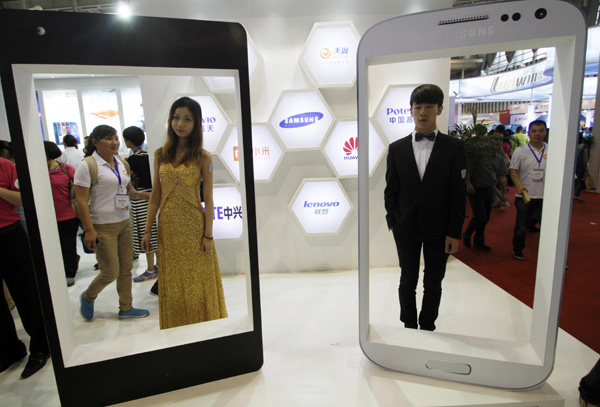 Models promote smartphones at a fair in Nanjing, Jiangsu province. Major telecom carriers are cutting operating expenses and downsizing subsidies to contracted smartphones. [Provided to China Daily]
Domestic telecom carriers currently squeezed by paying Apple, Samsung
China should end smartphone subsidies to overseas vendors and give more support to local brands, industry insiders said on Tuesday, as telecom carriers pledged to cut operating expenses and Apple Inc gets ready to debut its next-generation iPhone.
Xiang Ligang, a telecom researcher in Beijing, said cutting carriers' subsidies to foreign-made handsets will not only reduce carriers' operating expense but also leave local players with more market demand.
"It will be a one-stone-two-birds move for the Chinese smartphone industry," he said.
The country's three telecom carriers-all State-owned enterprises-spend at least 20 billion yuan ($3.2 billion) each year subsidizing gadgets made by Apple and Samsung Electronics Co, according to Xiang.
Apple and Samsung are the only two overseas brands to have a sizable presence in China, the world's largest smartphone market in terms of shipments.
"High dependence on contract phone sales in the country made the two companies especially sensitive to carrier subsidy cuts," said Simon Jin, account manager at Gfk Retail and Technology China Co Ltd, an industry consultancy.
More than 43 percent of the iPhones sold in China are contract phones, and the proportion of contracted Samsung gadgets is near 50 percent, data from Gfk showed.
Chinese telecom carriers massively cut back on operating expenses this year in a bid to keep profit margins growing. The carriers shut down premium customer lounges at Chinese airports and eliminated nonessential customer services in July to restrain daily expenses.
The move was led by the State-owned Assets Supervision and Administration Commission, the highest-level watchdog of SOEs.
China Mobile Ltd, the nation's largest telecom carrier by subscribers, said it plans to cut about 5 billion yuan in subsidies this year as a part of its 20 billion yuan operating expense reduction campaign. The company paid smartphone makers more than 26 billion yuan in subsidies in 2013.
"Giving subsidies to high-end phones made by Samsung and Apple does not make any sense because buyers in this category are not price-sensitive," Xiang said. "In other words, they will buy a 5,000 yuan smartphone even if there is no discount."
Apple is set to unveil its next-generation iPhone in early September. Carriers are predicted to spend less on iPhone marketing because of budget squeezes.
Jin from Gfk estimated that with carriers' budgets getting slimmer, most of the subsidies will go to middle- and low-end handsets to push sales.
"Carriers' budget cuts will affect high-end handsets and devices that support earlier-generation telecom technologies," Jin said. The carriers will continue to spend big on smartphones using fourth-generation networks, the fastest technology available in the country.