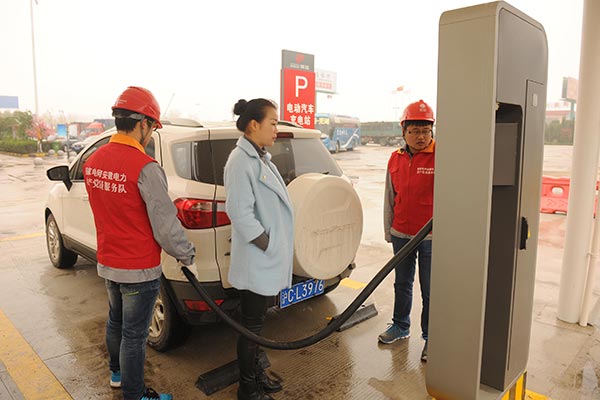 A woman charges her electric vehicle, which has a Shanghai license plate, on an expressway in Dingyuan, Anhui province. Major cities across China currently have different policies on new-energy vehicles and different standards for charging facilities. [SONG WEIXING/FOR CHINA DAILY]
Legislators install measures to boost sales of green vehicles
When he heard the Beijing municipal government had plans to cut its annual license plate quota for gas-powered vehicles by about a third next year, Li Xinpeng said he was both shocked and dismayed.
"If that is true, I basically have no chance of getting a car," said the 31-year-old Beijing resident.
According to media reports in recent weeks, the Beijing government is likely to cut its current annual quota of 90,000 fossil fuel-powered cars to 60,000 next year in a move to reduce the city's worsening congestion.
Li is eager to buy a car. As the father of an 18-month-old son, he said a vehicle would make life a lot easier.
For the past three years, Li has dropped his name into the city's license plate lottery without any luck. For many Beijing residents, the chances of winning a coveted license are fading. In the latest round in October, only 0.51 percent of applicants won.
But in the past few months, policymakers, both nationally and regionally, have made several moves to promote the new-energy vehicle sector. The Beijing municipal government announced it will double its quota for new-energy vehicles to 60,000 units next year.
The State Council, China's cabinet, asked local governments earlier this year to call off purchase restrictions and remove traffic controls for NEVs.
"I understand the authorities want to popularize NEVs, but I wouldn't choose an electric car because its range is shorter than the average internal combustion engine and it often needs to be charged," Li said.
The quota policy for NEVs applies to several major cities, such as Beijing and Shanghai, but many believe it needs to be improved.
The lack of a national standard is often cited as one weakness. Currently, every city sets its own policy. Beijing, for example, only greenlighted plates for pure electric cars, while Shanghai offers licenses for both pure electric and hybrid vehicles.
Moreover, purchase options for customers are limited. In Beijing, only a dozen pure electric models are on the availability list for the NEV license lottery.
Nevertheless, China's NEV market has surged over the past two years thanks to strong governmental support and purchase restrictions on gas-powered vehicles in major cities.