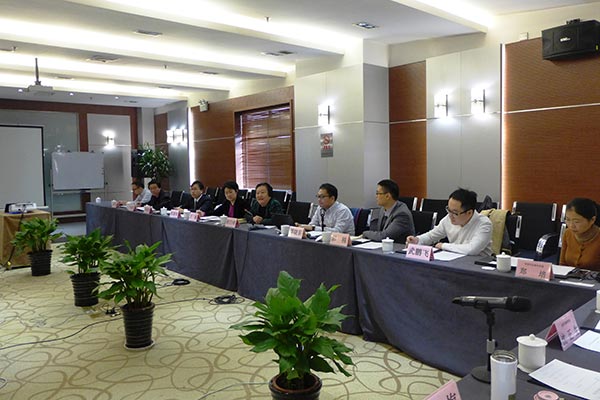 Photo of the seminar event.[Provided to chinadaily.com.cn]
On December 2, 2015, the Seminar and Inspection for the field of prioritized industries under the Belt and Road Initiative hosted by the CASS-RDI Project was held in Beijing, with representatives from more than tens of key enterprise covering architecture, hydro-electric, environmental protection, materials, mechanical, transportation and information services as well as relevant experts and scholars. BaigeZhao, member of National People's Congress Standing Committee, Vice Chair of Foreign Affairs Committee of NPC and Chair of Advisory Committee of CASS-RDI, also attended the seminar.
Accordingly, this is the first time for RDI to hold a special seminar dedicated to establish the system for standardization under the Belt and Road Initiative. The seminar is aimed to learn the current status of domestic enterprise comprehensively in the field of standards, the issue of standard developing, and the challenges facing enterprises under the context of the Belt and Road Initiative when they compete on international level. The seminar manages to promote the building of an international standardization system and expand communications and cooperations among governments, enterprises, trade organizations and academic institutions on the field of standardization so as to provide strong support for the "Going Global" strategy of Chinese enterprises.
Each representative, share their experience and opinion for how to promote standardization work, under the Belt and Road Initiative and provides constructive and innovative view points. Several comments from representatives share the same view point and resonate with common agreements and consensus especially around setting up alliance for certification, strengthen interaction of standard organization at national level, legislative work in the field of standardization and bring in concepts in modernized standard process. Participants strongly express interest to build upon RDI platform, combine resources and individual advantages to apply to applicable while promote internationalization of China standard development.