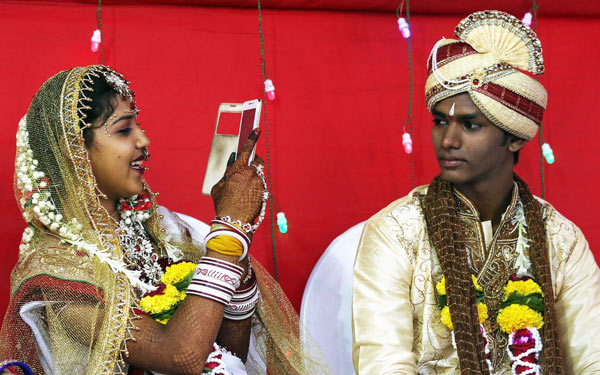 An Indian bride takes cellphone pictures of her groom during a mass marriage ceremony on the occasion of the Akshaya Tritiya festival in Mumbai, India, 21 April 2015.[Photo/IC]
As China's smartphone market becomes increasingly saturated, emerging lucrative markets such as India are luring Chinese brands to enter and compete in the new battlefield.
According to Hong Kong-based Counterpoint Technology Market Research, the number of Chinese smartphone brands available in India has jumped from 12 to 57 in two years.
Lenovo, Huawei, Xiaomi, Vivo, Meizu and One Plus have already launched their products in India while LeTV, one of the late comers, also announced its foray into the market in October.
Anshul Gupta, an analyst at the market research firm Gartner, projects that the Indian smartphone market will grow at an annual compound rate of 40 percent in the next two years.
"The availability of affordable smartphones in emerging markets saw consumers upgrade their 'feature phones' to smartphones more quickly because of the small price gap," said Gupta.
Smartphone sales in emerging markets alone increased by 18.4 percent to 259.7 million in the third quarter of 2015, compared with the same period in 2014.
According to the latest figures unveiled by International Data Corporation (IDC), thanks to Motorola's line-up, Lenovo, moved up to fourth place in the Indian market in the third quarter of 2015, owing to a strong 58.6 percent sequential growth.
Lenovo group captured 9.5 percent of the smartphone market driven mainly by Lenovo's K3 note, A6000 plus, and Moto G 3rd Gen. The group also started local manufacturing of its smartphones in India to further strengthen its position in the market.
"E-tailers such as Flipkart, Snapdeal, and Amazon continue to drive shipments of the Chinese vendors, who have been aggressively trying to capture the 4G smartphone market in India," said Karthik J, a senior market analyst at IDC India.
Nonetheless, Chinese brands are facing tough competition with other global brands and local brands such as Micromax, Lava, Intex, Karbonn.
"While we see a large number of Chinese brands in the Indian market now, there's only handfuls that are actually challenging the status quo of the incumbents," said Kiranjeet Kaur, Research Manager of IDC Asia & Pacific. "The biggest challenge is to scale up their offline distribution."
According to Kaur, the local players have a large and wide distribution network and even though there has been a boom in the e-tailer market lately, India still remains a retail dominated market.
Local players can reach people who are located in small towns and are still using low-cost feature phones, and would probably deem Chinese phones as too expensive.
"Average price of smartphones from Chinese vendors is still above $100," said Kaur, "the local brands also have been investing in branding exercises, tying up with movie stars, doing sports sponsorships which has been helping them gain recognition in the Indian market."
"I do see big growth for the Chinese players but I cannot at the moment say that it will lead to big share gain as well. For the reasons mentioned above, the local players do have a strong standing in the Indian market," she added.
"The biggest driver here is the increase in imports tax. As the market is moving towards lower cost phones, margins are getting thinner and any increase in tax makes a big difference and could lead to a big cost advantage," said Kaur.
For the time being, it's still going to be focused on local assembly as most of the component supply chain is still based in China. But she doesn't see it an impossibility that the eventually government introduces some regulations and incentives to move more end-to-end manufacturing to the country.
There is always going to be uncertainty regarding some tax laws but that would not prevent the vendors from claiming a stake in one of the fastest growing smartphone markets now.