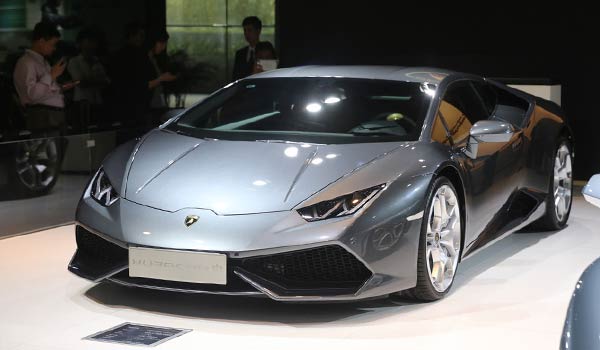 A Lamborghini Huracan Zhong limited edition makes its premiere at the Auto Guangzhou on Nov 20, 2015. [Photo / IC]
Italian luxury carmaker Automobili Lamborghini S.p.A. unveiled its Huracan LP 580-2, a rear-wheel-drive version of the Huracan coupe, on Nov 24 at the 2015 Los Angeles auto show.
The sports car is engineered and tuned for an essential driving experience. With its naturally aspirated V10 5.2-liter engine sending 426 kW or 580 hp to the rear axle, the Huracan LP 580-2's dry weight is just 1,389 kg, thus 33 kg lighter than the four-wheel-drive version.
Weight distribution is biased 40 percent at the front and 60 percent at the rear, reducing inertia on the front axle.
The rear-wheel-drive Huracan LP 580-2 complements the existing Huracan, offering the all-encompassing technology and experience of the four wheel-drive Huracan LP 610-4 and the lifestyle appeal of the Huracan LP 610-4 Spyder.