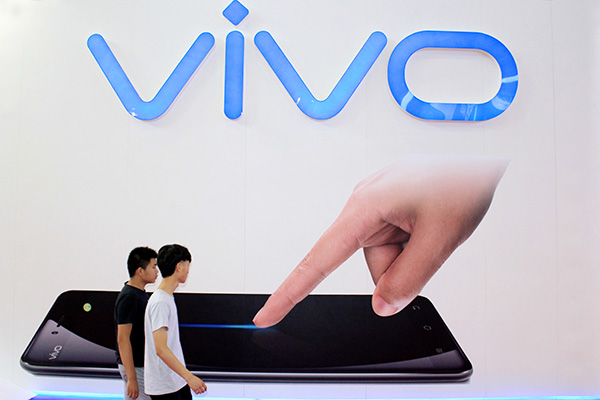 Two pedestrians walk past a Vivo Mobile Communication Technology Co Ltd poster in Nanjing, Jiangsu province. The smartphone maker is eyeing the Indian market by sponsoring its cricket league. [Photo/China Daily]
Smartphone maker Vivo Mobile Communication Technology Co Ltd is set to leapfrog its Chinese peers in gaining traction in India's rapidly growing smartphone market after it bagged a lucrative sponsorship deal for one of the country's leading cricket tournaments.
Vivo said in a statement that it would be the title sponsor for the Indian Premier League, the most-watched sports event in India, for the next two seasons. The tournament is conducted by the Board of Control for Cricket in India, the national governing body.
In the coming two IPL seasons in 2016 and 2017, Vivo and IPL will have extensive cooperation in terms of sports events, on-ground activations and marketing campaigns.
The Chinese company, however, did not reveal any details as to how much the deal is worth.
Alex Feng, CEO of Vivo Mobile India, said: "Vivo is an emerging brand in India and this investment reiterates how important the Indian market is for us. We are confident that we will get returns from our investment in the IPL and this association will further advance our 'Love India, Love Vivo' initiative."
According to YouGov, an international market research firm, 62 percent of Indians play cricket at least four times a year, and 85 percent of the respondents in a survey followed cricket competitions through TV or other media.
Statistics also showed that the annual revenue of IPL reached 10 billion yuan ($1.57 billion) in recent two seasons, and the brand value of IPL has surpassed $4.1 billion, just behind the National Football League in United States.
Anurag Thakur, the BCCI secretary, said the IPL is all about opportunities and exhibition of talent, something that symbolizes Vivo.
The Shenzhen-headquartered Vivo, whose products target music lovers, sports enthusiasts and fashion pursuers, entered the Indian market in December with its V series of products.
It currently has a presence in more than 200 Indian cities, about 7,000 employees and 10,000 retailers. Vivo plans to set up 200 after-sales service centers by the end of 2016, and is also looking to set up a manufacturing facility in India.
Zhu Dalin, an analyst at Beijing-based Internet consultancy Analysys International, told China Daily: "Vivo is targeting young users in India, much like it is doing so in China. By offering products that appeal to the younger generation, it has gained an edge over competitors such as Xiaomi Corp and Huawei Technologies Co Ltd in India."
"Although Vivo started to expand its overseas market from the end of 2014, it accounts for just 5 percent of its total shipments. India has become the largest overseas market for Vivo, accounting for about 50 percent of its overseas shipments," said Zhao Jiajia, an analyst at market research firm Canalys.
Zhao said Vivo is good at using marketing campaigns to establish its reputation and influence, and the cooperation with IPL will improve its brand image.
For Chinese smartphone producers, India is an emerging and huge market that cannot be ignored, Zhao said, due to its large population and expanding economy. In fact, Chinese smartphones have an edge over global giants as their products are more cost-effective in India.