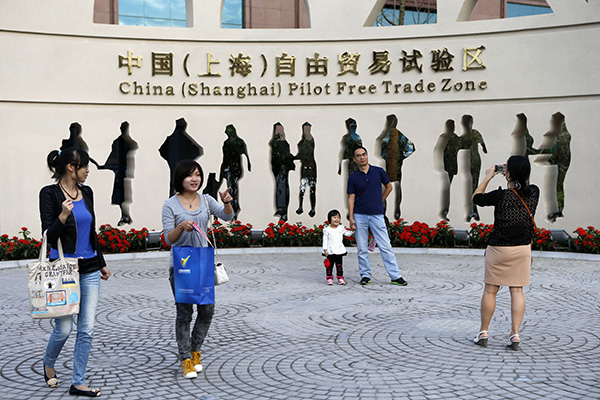 Shanghai residents take pictures at the China (Shanghai) Pilot Free Trade Zone. [Photo/China Daily]
Shanghai FTZ: From 'bold experiment' to national model
Editor's Note: The Communist Party of China Central Committee is meeting this week in Beijing to set the course for the world's second-largest economy over the next five years. China Daily takes a look at the major economic progress achieved during the previous years and key focus areas in 13th Five-Year Plan (2016-20).
A new round of reform and opening-up of China marked by the opening of the China (Shanghai) Pilot Free Trade Zone two years ago is sure to be carried on in the country's 13th Five-Year Plan (2016-20).
More importance will be attached to opening-up in the new Five-Year Plan which is to be released soon. Prominent on the agenda is the expansion of free trade zone groups in China.
Zhang Jianping, director of the international economic cooperation institute for international research under the National Development and Reform Commission, said that many provinces have submitted their applications of free trade zones to promote a new round of reform and opening-up locally. A large number of these applicants are quite qualified, he said.
Qualified candidates include internationally influential cities along the Yangtze River Economic Belt such as Wuhan and Chongqing, as well as bigger-size cities in border provinces, such as Urumqi, which can serve as inland ports for free trade, said Zhang.
Besides, progress has been made concerning a deepened financial reform in the Shanghai FTZ. Premier Li Keqiang said during an executive meeting of the State Council on Oct 21 that the renminbi convertibility would be increased step by step. In addition, steps to expand the functions of existing free trade accounts, foster more overseas investment by qualified domestic individual investors, expand the back-flow channels of overseas renminbi investment and support the legal establishment of overseas equity investment funds would also be considered.
All these improvements are based on the steady steps that the Shanghai FTZ has made.
This April, its original size of 28.78 square kilometers was expanded to include a wider area of the city's flagship economic and commercial hub, Pudong New Area. And another three FTZs have been created based on its model in Guangdong and Fujian provinces and in Tianjin municipality.
The central government has always bet firmly on Shanghai FTZ being such a pioneer project.
President Xi Jinping told the annual sessions of the National People's Congress and the National Committee of the Chinese People's Political Consultative Conference in March this year that, "the Shanghai FTZ was a bold experiment" when it was launched.
"But it overcame its difficulties to become a blueprint for other sites, exploring new paths for China to build a more open economic system".
Many lessons were learnt in the creation of the Shanghai FTZ. And as a result, many of its methods and systems have been employed in the other three zones.
In February, for instance, the Ministry of Commerce gave the green light to a parallel car import scheme for 17 dealers, including eight from Shanghai and nine from other provinces.
Chinese consumers normally buy cars from dealers authorized by auto makers. The prices of imported cars are often much higher in China than in other countries.
But cars sold under the parallel import scheme were at least 10 percent cheaper than those in 4S shops, according to auto dealers.
The scheme is being offered in the other three FTZs as well as cities including Shenzhen, Suzhou of Jiangsu province and Hefei of Anhui province.
A ban on imported game consoles, including those produced by market leaders Microsoft's Xbox and Sony's PlayStation, imposed in 2000, meanwhile, was also lifted first in the Shanghai FTZ, in 2014.