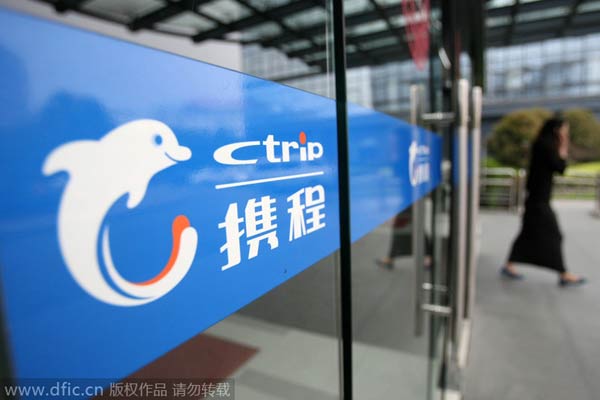 A Chinese employee leaves the office building of Chinese online travel agency Ctrip in Shanghai, China, March 26, 2014.[Photo/IC] 
Online travel company Ctrip.com International Ltd and its rival Qunar Cayman Islands Ltd have agreed to a share swap and partnership that will create China's biggest online travel service.
Under the deal, Ctrip will own roughly 45 percent of Qunar, the company said in a statement on Monday.
Baidu, which owns 20 percent of Qunar, will take a 25 percent stake in Ctrip. The two companies will also combine products and services.
The deal comes about five months after Qunar rejected a buyout offer from Ctrip amid fierce competition for online bookings in China, where rising incomes and an expanding middle class are fueling a surge in travel.
"It's good for both companies," said Henry Guo, managing director at Summit Research Partners LLC. "Competition between the two companies has hurt both of them in terms of profitability as there's been some irrational pricing."
Qunar is the second-largest online travel agency in China. The two companies have a combined market value of $15.6 billion, according to data compiled by Bloomberg. Ctrip had a market valuation of $10.6 billion, while the smaller Qunar is valued at $5.2 billion, according to Thomson Reuters data.
The acquisition would add to the $62.5 billion of Internet deals involving Chinese companies during the past year, data compiled by Bloomberg show.
Four senior managers from Ctrip, including President Liang Jianzhang and Co-President Su Jie, will join the Qunar board, while two senior managers from Baidu, including Chairman Li Yanhong and Vice-President Ye Zhuodong, will be on the Ctrip board.
"Baidu expects to continue its existing business cooperation with Qunar," said the statement from Ctrip.
Wang Wen contributed to this story.