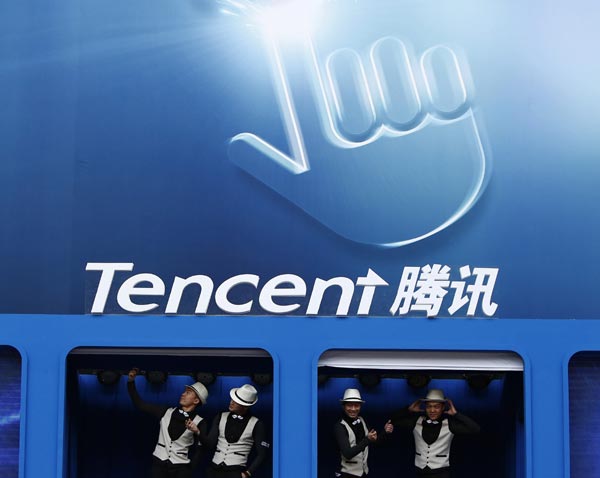 Dancers perform under a logo of Tencent Holdings Ltd at the Global Mobile Internet Conference in Beijing. The company recently launched securities and wealth management services on its live chat tool QQ. [Photo/Agencies]
Tencent Holdings Ltd, China's second-biggest Internet company, is ramping up its bet on 58.com after a selloff wiped out a third of the company's market value last quarter.
Three months after purchasing a 19.9 percent stake in the Beijing-based company, Tencent scooped up $117 million more of 58.com's American depositary shares in the secondary market from Sept 22 to Sept 29, boosting its stake to 24.6 percent in the process, according to an Oct 2 filing with the Securities and Exchange Commission. Shares in 58.com, a Craigslist-like site, tumbled 31 percent in the third quarter, the fourth-worst performance in a Bloomberg index of 79 Chinese companies listed in the US.
About $1.4 billion of the company's market value was erased in the period as growing competition in the online classifieds sector prompted 58.com to give a revenue forecast that was below estimates. The company remains an attractive target to Tencent, the leading Chinese provider of instant-messaging services, as it seeks to compete with rivals including Alibaba Group Holding Ltd for online consumers, according to Praveen Menon, an analyst with Bloomberg Intelligence in New York.
58.com "is facing increased competition from not just big diversified portals but also from specific vertical websites such as SouFun", Menon said, referring to China's biggest real-estate website. "For Tencent, it gives them a stake into the local advertising business, a lucrative segment that it can cross-promote through its mobile properties."
Tencent press official Canny Lo declined to comment on the company's stake in 58.com.
While 58.com on Aug 20 reported better-than-estimated sales and net income for the second quarter, the company's shares fell by as much as 10 percent the next day after it forecast third-quarter revenue of $66 million to $68 million, which was below analysts' estimates of about $75 million for the period.
Chief Executive Officer Michael Yao told investors on 58.com's earnings call that plans to ramp up spending on advertising, research and development may fuel losses in the second half as the company seeks to lure more mobile users.
The company made more than 50 percent of its $112.8 million in first-half revenue from membership fees, while about 44 percent came from extra marketing services such as priority listings.