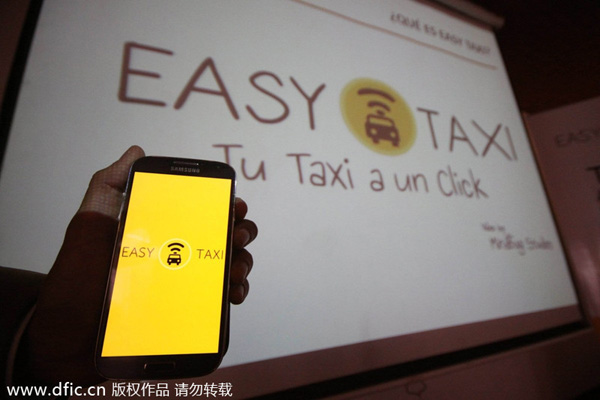 Photo taken on March 12, 2014, shows Easy Taxi app in a cellphone. [Photo/IC]
IT giant Tencent and Easy Taxi, the world's biggest taxi booking app, have announced a partnership allowing WeChat users to book taxis directly via the popular messaging app, according to a press release issued by Easy Taxi in Singapore.
Early users can enjoy a S$5 ($4) waiver on taxi fares.
New users can download the WeChat app onto mobile devices, while existing users can simply follow Easy Taxi's official WeChat account to use the taxi booking function.
Just like the promotion on taxi fares in China, for each booking made through WeChat, a passenger can save S$5 while taxi drivers will get an additional S$1.
Li Jianggan, co-founder and managing director of Easy Taxi Singapore said that it launched the service in response to the rapid expansion of WeChat users in Singapore.
"In the age of mobile Internet, much of our social interactions are conducted via our smart phones. Integrating Easy Taxi into WeChat is a logical decision, as it gives consumers an integrated experience both online and offline," said Li.
Li also said that Easy Taxi will integrate its cashless payment feature on the WeChat platform in the coming weeks, and it is also working with companies such as FoodPanda to enable services through WeChat.
Following the pilot program in Singapore, the partnership will be extended to other countries where both WeChat and Easy Taxi are available.
Established in 2011, Easy Taxi is the world's biggest taxi booking app, currently available across 200 cities in over 30 countries around the world.