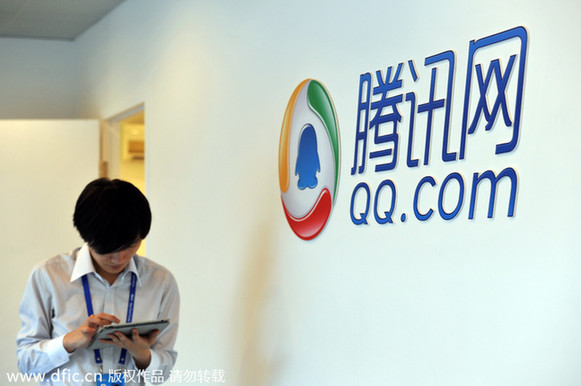 An employee uses his tablet PC as he walks past a logo of QQ.com of Tencent during the Boao Forum for Asia Annual Conference 2013 in Qionghai city, south Chinas Hainan province, 6 April 2013.
State-owned Assets Supervision and Administration Commission of the State Council (SASAC) has approved acquisition of 11.28 percent stake of Navinfo Co Ltd from China Survey by an investment fund owned by Tencent, according to a letter sent to the stock exchange by Navinfo. The transaction, based on 30 days average share price of Navinfo prior to the announcement, has been valued at 1.17 billion yuan ($187.6 million). Upon completion, China Survey will cease to have a controlling stake in Navinfo.
Navinfo is a state-owned digital map, telematics and dynamic traffic information service provider. Currently its largest shareholder is China Survey, a wholly-owned subsidiary of state-owned Aerospace Science & Technology Corp (CASC). After transaction, Tencent and China Survey will jointly hold nearly equal stake in Navinfo.
"This is a bold attempt" said Wu Jinfeng, chief engineer at CASC and Chairman of the Board of China Survey. Tecent's investment will bring structural change in Navinfo Co Ltd. With Tencent and China Survey holding equal shares, Navinfo can adapt a new board and management style to compete with increasing competition.
Competition in digital map market has grown fierce in recent years. Baidu, relying on its leading position in search engine market, holds more than 50 percent share in digital map services. Earlier this year, many services provided by Tencent started using Tencent map to replace Baidu map. From April 28, Navinfo replaced AutoNavi, which has been acquired by e-commerce giant Alibaba Group, as map data provider for Tencent map. Cooperation between Tencent and Navinfo can utilize Navinfo's map data to reach Tencent's massive client base. Prior to the acquisition, Navinfo's primary business was to provide map data to automobile industry.
According to Wu Jinfeng, cooperation between Navinfo and Tencent is only a pilot program. CASC will later carry out steps to reform mixed ownership process.