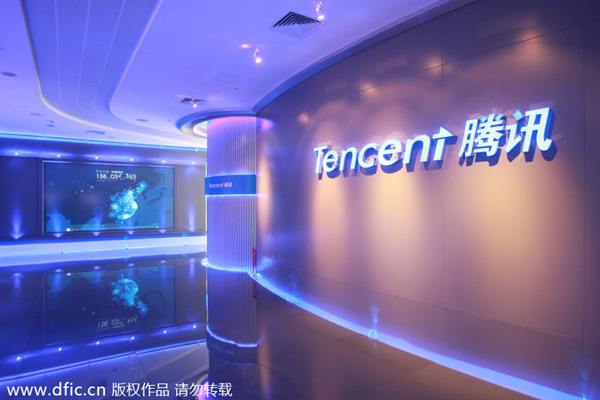 A logo of Tencent is seen at the headquarters of Tencent in Shenzhen city, south Chinas Guangdong province, 29 March 2013. [Photo/IC]
China's high-tech company Tencent has emerged as the fastest growing brand in the world,according to 2014 BrandZ Top 100 Most Valuable Global Brand ranking,released by research agency MillwardBrown in Beijing on Wednesday.
The report said Tencent almost doubled its value to $54 billion to rise to No 14 rank globally. It has overtaken China Mobile as the most valuable Asian brand.
"The big story here is that a market-driven Chinese brand is now at the top,rather than a State-owned enterprise that might have benefited from being a monopoly. Tencent continues to innovate and increasingly plays a bigger role in helping people organize their lives,like other successful brands such as Google and Facebook," said Deepender Rana,managing director of Millward Brown Greater China.
Globally,Google has overtaken Apple to become the world's most valuable brand in 2014,with brand value worth $159 billion,an increase of 40 percent year on year.
After three years at the top,Apple has slipped to No 2 on the back of a 20 percent decline in brand value,to $148 billion.
Although,Apple remains the top performing brand,there is a growing view that it is no longer redefining technology for consumers,reflected by a lack of pathbreaking new product launches.
Tencent launches Candy Crush game in China
Tencent to buy $500m stake in Korea mobile gaming firm