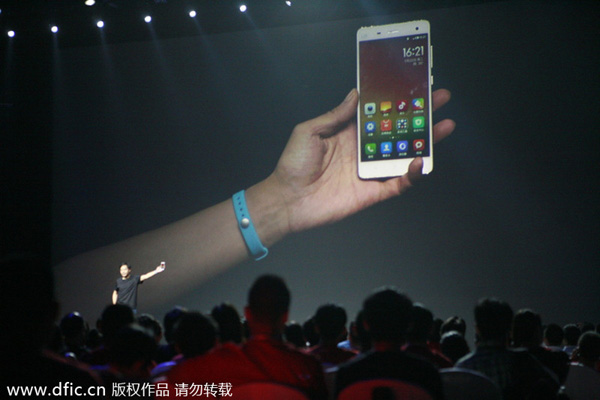 Lei Jun, Chairman and CEO of Xiaomi Technology and Chairman of Kingsoft Corp, delivers a speech to introduce the Xiaomi 4 or Mi 4, smartphone on the stage at a launch event of Xiaomi in Beijing, July 22, 2014. [Photo/IC]
BEIJING - Chinese smartphone maker Xiaomi unveiled its latest flagship device, dubbed the Mi 4, Tuesday in Beijing.
The Mi 4 comes with a 5-inch 1080p display and is powered by a 2.5-GHz quad-core processor. It has a 13-megapixel camera and 3 GB of RAM.
The Mi 4 China Unicom version will enter the market on July 29. The new generation Xiaomi operating system MIUI6 will also be launched on August 16, said Lei Jun, CEO and founder of Xiaomi Tech.
The 16-GB flagship phone sells for 1,999 yuan (about $322), while the 64-GB version costs 2,499 yuan.
Meanwhile, Xiaomi launched its smart bracelet Tuesday, which allows users to measure their exercise and sleep quality.
Market analysis agency Flurry said in July that Xiaomi users in China spend more time using apps than Apple users. The new device is expected to further increase the amount of time its users spend in apps.
Zhou Guangping, co-founder and vice president of Xiaomi Tech, said the company will speed up its expansion into overseas markets.
"We will explore Southeast Asian, South American and European markets and provide more targeted services for foreign users in the latter half of the year," he said.
Statistics showed that Xiaomi sold 26.11 million phone units and achieved sales volume of nearly 33 billion yuan in the first half of 2014, up 271 percent and 149 percent from the same period last year.
It is expected to sell 60 million units of smart phones this year with sales volume exceeding 70 billion yuan.