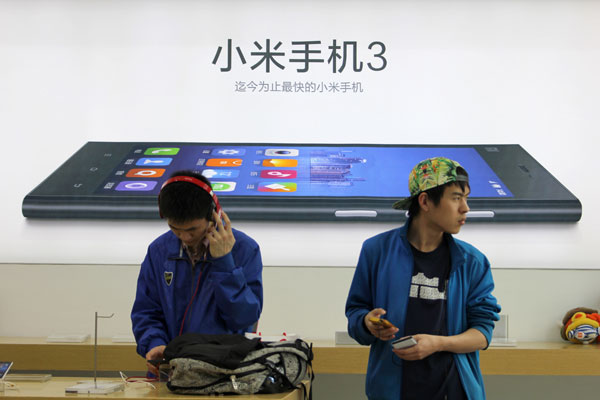 Customers try out Mi3 smartphones at aflagshipstore of Xiaomi in Wuhan city, Central China's Hubei province, March 30, 2014. Sun Xinming for China Daily
Chinese smartphone maker Xiaomi Corp said on Wednesday that it sold more than 26 million smartphones in the first six months of the year, a year-on-year growth of 271 percent.
Lei Jun, chief executive of the company, said the figure is higher than Xiaomi's full-year shipment in 2013, when the Beijing-based company sold 19 million phones.
Xiaomi's January-June sales volume also more than doubled compared to a year ago, reaching 33 billion yuan ($5.5 billion), he said. Earlier this year, Xiaomi had said it plans to sell 60 million smartphones this year.
Xiaomi, founded in 2010 in Beijing, is the fifth-largest smartphone vendor in China and holds about 10 percent market share, according to local research firm Analysys International.
"We provide services based on self-made hardware. It is similar to the approach adopted by Tencent Holdings Ltd and Alibaba Group Holding Ltd of selling services through software and e-commerce platforms," Lei said.
Xiaomi has no plans to go public "at least for the next five years", Lei said, adding that "by remaining private, we expect to realize solid returns just like what Alibaba has been doing".
Alibaba, the leader in China's online shopping market, is planning an initial public offering on the New York Stock Exchange next month.
Xiaomi's flagship products include smartphones and smart televisions. It added tablets to its portfolio in May hoping to challenge Apple Inc's dominance in the sector.
Analysts believe Xiaomi's growth momentum is likely to continue in the latter half of the year but may not be enough to dislodge top vendors like Apple Inc, Samsung Electronics Co Ltd and Lenovo Group Ltd.
"I think Xiaomi should consider introducing devices that support the fourth-generation telecom network if it wants to increase market share in China," said Bryan Wang, principal analyst at Forrester Research Inc.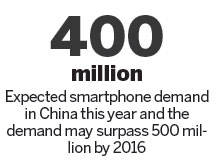 Chinese telecom carriers are vigorously pushing their 4G businesses in major cities. The Ministry of Industry and Information Technology last week allowed the two smaller carriers to try long-term evolution frequency-division duplexing, or LTE-FDD, networks in 16 cities including Shanghai, Chengdu, Wuhan and Lanzhou. The technology is a widely accepted 4G standard in developed markets such as the United States, Germany and South Korea.
Xiaomi is likely to unveil its next-generation flagship phone that supports 4G in July or August.
The company is expected to face stiff challenge from low-end 4G devices, with entry-level 4G smartphones expected to be priced around 600 yuan.
Xiaomi should not worry too much about customer shortages, said analysts. According to an Analysys International report, smartphone demand in China is expected to reach 400 million this year and surpass 500 million by 2016.