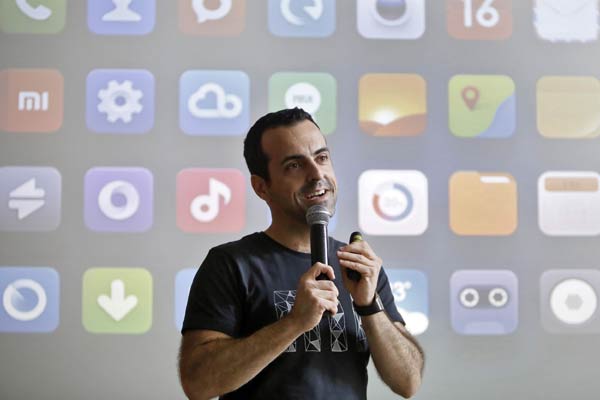 Xiaomi Corp's International Vice-President Hugo Barra speaks with the media during the launch of Mi phones in New Delhi on Tuesday. The Chinese smartphone maker said it intends to invest heavily in India, the world's third-largest smartphone market. [Photo/Agencies]
Xiaomi Corp, a company known for its aggressive pricing strategies, on Tuesday became the latest Chinese smartphone maker to debut its products in India.
The privately owned company expects its products to be popular with customers in the fastest-growing telecom market in the Asia-Pacific region.
Xiaomi, based in Beijing, is selling its flagship phones through Flipkart, an Indian online electronics marketplace. The company did not disclose its sales target.
Hugo Barra, Xiaomi's vice-president in charge of international business, told reporters in Mumbai that the Chinese phone producer is planning to build an India-focused ecosystem rather than earning profits.
Nicole Peng, research director of market data firm Canalys China, said that Xiaomi has gained a lot of attention in the Western media during past 12 months. "This has helped Xiaomi gain greater consumer traction in overseas markets—an important first step."
Overseas markets have often proved to be a vastly different and often challenging playing field for Chinese companies, Peng said, adding that it is important for Xiaomi and other Chinese vendors to put investment "in the right places" such as channel building, patents, supply and inventory.
"We understand that Xiaomi is making progress in all these areas, but it is still too early to judge its overseas strategy," said Peng.
Xiaomi sold more than 26 million smartphones in the first half of this year, a year-on-year growth of 271 percent, the company said earlier this month. Most of the devices were sold in China, although it said it would expand into Singapore, Brazil and Mexico.
Xiaomi is scheduled to unveil its next-generation flagship smartphone on Tuesday. The gadget, likely to be named Xiaomi 4, will feature a metal case for the first time.
Chinese smartphone makers like Lenovo Group Ltd and Huawei Technologies Co Ltd entered the Indian market more than two years ago and are still striving to boost their market shares.
Samsung Electronics Co led the Indian smartphone market with more than a one-third market share in the first quarter, according to global consultancy firm IDC. Three Indian vendors—that are not known much outside the country—took a quarter of the share.