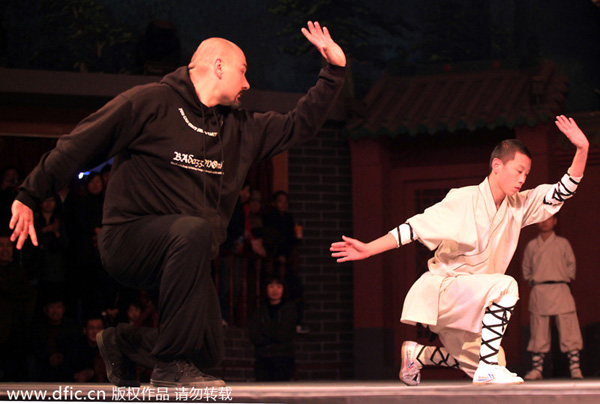 A Chinese monk practices Kong Fu with an American martial arts tourist at the Shaolin Temple Wushu (martial arts) Training Center in Dengfeng city, Henan province, November 13, 2011. [Photo/IC] 
BEIJING - The ancient martial art of kung fu might become as easy as a tap on the screen of your smart phone soon.
China's 1,500-year-old Shaolin Temple is looking to develop a game app to teach users martial arts on cell phones.
Monks from the temple attended a summit held by e-commerce giant Alibaba this month to learn about app development.
"Shaolin might use its warrior monks as the main characters of the mobile phone game," says Lin Xiaosong, chairman of Dengfeng Tiandizhizhong Network Development Corporation, which manages the Shaolin brand.
"The game would integrate kung fu with swords and sticks to teach martial arts interactively, so that users won't have to climb the Song Mountain (in central China's Henan province) to learn Shaolin kung fu."
Lin says Shaolin is still researching the app and has no concrete plans for investment or project details yet.
The reputation of Shaolin kung fu was set during the Sui and Tang dynasties (581-907). In the Song Dynasty (960-1279), it became a unique school of wushu (Chinese martial arts) and established itself as a school of excellence.
Shaolin was the first temple in China to digitalize its business and now has nine subsidiary companies including martial arts studies, calligraphy, medicine, food and movies.
The temple first applied for its own domain name in 1996, before even Alibaba. In 2001 it had a website on which it published Shaolin kung fu secrets for the first time.
It then started its e-commerce business on Taobao, a popular retail platform, where it sells meditation costumes, candles, tee-shirts, watches, and the controversial Shaolin Medical Book for 9,999 yuan ($1,600).
In 2012, it opened accounts on the Weibo social media website, where it has 60,000 followers.
The whole office area of the temple has wifi, and almost all the young monks use smart phones.
"The era of sitting in meditation by the light of an oil lamp has gone. We need to keep pace with the times," says Master Yanzheng, a monk in his 20s, iPhone in hand.