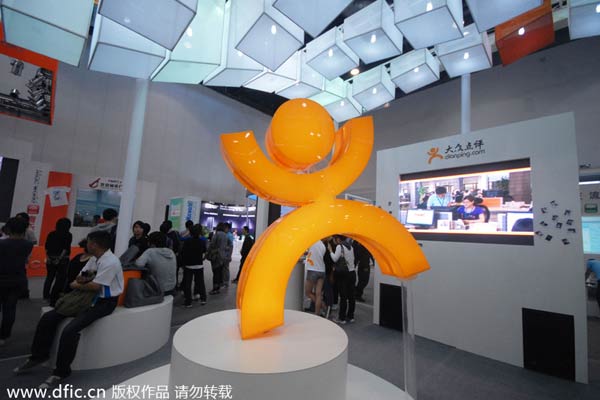 People visit the stand of restaurant rating website Dianping.com during the Macworld Asia 2011 in Beijing, China, Sept 23, 2011. [Photo/IC]
Dianping.com is boosting its reliance on Tencent Holdings Ltd's smartphone applications as the consumer review website seeks to add users from inland cities.
The company, based in Shanghai, is targeting smaller, less-developed cities away from coastal urban areas such as Beijing and Shenzhen, co-founder Edward Long said in an interview.
There are 369 such "emerging" cities in China, accounting for about one-third of the urban gross domestic product, according to a March 2012 report from McKinsey & Co.
Dianping customers have increased their use of Tencent's payment service since Asia's largest Internet company in February acquired a 20 percent stake in the website that offers user reviews of restaurants, Long said in Tokyo on Friday.
The location-based food and entertainment services software, which comes preloaded on some versions of Tencent's WeChat messaging service, lets users share reviews.
"The value of WeChat is its vast coverage in the third- and fourth-tier cities," Long said. "Previously, we hadn't done well in less-developed cities located in central and western China. WeChat can help us reach users in these less-developed cities."
Long said the number of Dianping users paying for meals through WeChat's system is "catching up" with Alipay, the nation's largest third-party payment system. Long declined to disclose precise figures.
Dianping's mobile app users surpassed 150 million as of June, according to Long. Its active monthly users rose 86 percent in the second quarter to 130 million from a year earlier, he said.
The company logged more than 36 million reviews covering about 2,300 cities as of the end of June, according to its website. More than 80 percent of its monthly page views come from mobile users.
Dianping is working on an initial public offering in the US and could raise $500 million to $1 billion, people with knowledge of the matter said in June.
"The IPO is a must pass target," said Long, declining to provide more details.
Zhang Tao, Dianping's founder and chief executive officer, said in October that the company may be worth more than $10 billion and said he would prefer a listing in the US.
Dianping, founded in 2003 in Shanghai, offers search services for local businesses that include consumer-generated reviews. Users can also buy coupons and enjoy group discounts similar to those offered on Groupon Inc.