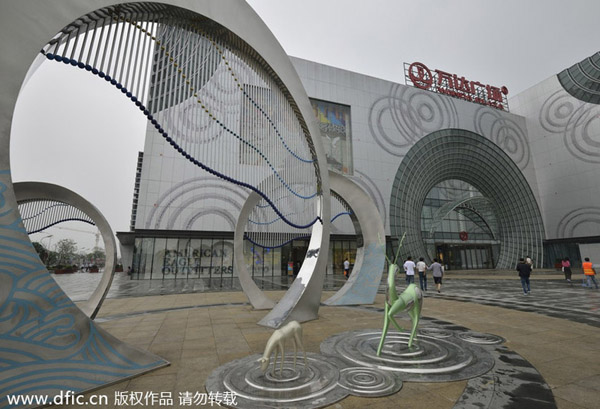 Visitors walk into a Wanda Plaza in Shanghai, on June 17, 2014. [Photo/IC]
Wanda plans to enter e-commerce sector in partnership with largest e-business companies in China but has not revealed names of these companies.
The conglomerate and other joint-stock companies will invest 5 billion yuan initially and aim to find a profit model in about three years.
Wang Jianlin, CEO of Dalian Wanda Group Corp, revealed the company's e-commerce development and stock market listing plans at the first half year work report meeting, according to Sina IT on Wednesday.
According to Wang, Wanda's assets reached 460 billion yuan in the first half of 2014, accounting for 21 percent increase year-on-year. During the same period, the company earned 92.07 billion yuan, reaching 38 percent of the targeted revenue in 2014.
He also said that Wanda Plazas attracted 720 million customers in the first half of 2014, about 200 million more year on year, adding that online and offline commerce does not conflict with each other.