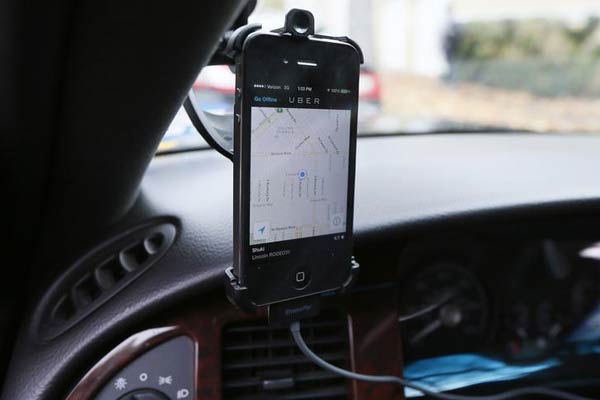 Uber started its test operations in Beijing two months ago. The company is expanding to six cities including Shanghai, Guangzhou and Shenzhen. [Photo/Agencies]
US-based mobile app Uber officially launched its car service in Beijing on Monday, and is expanding to six Chinese cities, including Shanghai, Guangzhou and Shenzhen. Uber started its test operations in Beijing two months ago.
It now operates in 140 cities in 39 countries, including 25 cities in the Asia-Pacific region.
Uber invented the car-calling mobile app. It is similar to apps in China that work with taxi drivers but partners with car service companies instead.
Drivers are not Uber employees but staffers of the car service. They get paid by the fares they earn, and Uber simply negotiates revenue-sharing rates with these partners.
Travis Kalanick, co-founder and CEO of Uber, said the company will offer two kinds of services in Beijing: UberBlack for premium cars such as Audi A6, and UberX for medium-level vehicles such as Volkswagen Passat. Normally, hiring an UberBlack car costs considerably more than a regular taxi.
In some cities, Uber prices fluctuate with demand, similar to airfares. "In New York, when the price rises, that would attract more cars into the system, and everybody gets a ride home. We are doing it in Shanghai but not yet in Beijing," Kalanick said.
Kalanick said that in every market, the service starts from the high-end, "but eventually we want to offer multiple choices for customers".
"We target customers who like quality and a good price, but not necessarily young people," he said. "Our customers would highly overlap those who frequent Starbucks."
Kalanick said Beijing is the fastest-growing city in Asia, and he believes it is among the fastest-growing in the world for Uber.
The company did not release customer figures, but Kalanick said he hopes the number of Uber users in Beijing will grow by 25 percent to 30 percent every month.
So far, the service is most widely available in downtown Beijing, especially the central business district and Sanlitun areas. Customers can get a car elsewhere, but it takes longer to get picked up.
Ben Chiang, director of the Uber China expansion, said they decided to start from a small service scale to guarantee a five-minute pickup.
"Beijing doesn't have a lot of transportation operations. The traffic is heavy, and the city is gigantic, which poses a challenge for us in rolling out the service."