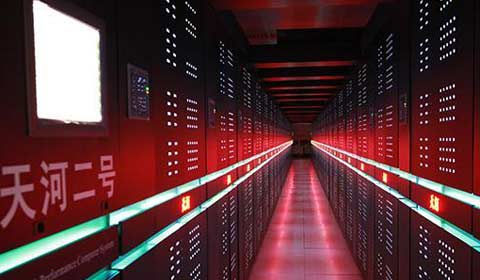 Photo shows Tianhe-2 supercomputer. [Photo/people.com.cn]
BEIJING - The chief designer of China's Tianhe-2 supercomputer has joined the debate over whether it really is "the most powerful supercomputer".
Some media reports have claimed that China's supercomputers are just showy machines and mere political products.
Lu Yutong from National University of Defense Technology, which developed the supercomputer, said on Tuesday that the Tianhe series was created to solve major scientific problems of China's national security and development.
China's supercomputer development is very similar to that of Japan and the United States, which is "more than just motivated by the market or commercial profits," said Lu, adding research and development organizations such as IBM, Cray and Fujitsu all received funding from governments.
Tianhe-2 retained its position as the world's No 1 system with a performance of 33.86 petaflop per second (33,860 trillion calculations per second), according to the 43rd biannual TOP500 list in June.
Lu rebutted the claim that Tianhe-2 was only theoretically powerful, noting that the ranking was based on the Linpack benchmark, a measurement of actual performance. She also denied claims of huge energy consumption by Tianhe-2, saying the computer is highly efficient.
Quoting the Top500 standards, Lu said Tianhe-2 has almost equal energy consumption to the US Titan and Sequoia, second and third fastest, and uses far less energy that the Japan's K which ranks fourth.
She said it is normal for one system to have different rankings on different lists, as different organizations, such as HPCC, Graph500 and HPCG, have test programs of their own. Tianhe-2 ranked sixth on the HPCG list and first with Graph500, while the Titan system even did not get on the Graph500 list.
Regarding the accusation that China's super computers only highlight hardware and are weak in practical applications, Lu said Tianhe-2 has been widely used in the fields of energy, meteorology, aviation and astronautics, biomedicine and industrial manufacturing. Its users include research institutes at home and abroad, colleges, enterprises and government departments.
SeisSol, seismic simulation software running on Tianhe-2, was nominated for the Bernard M. Gordon Prize. The Technical University of Munich in Germany and the Georgia Institute of Technology in the United States are both conducting research using Tianhe-2.
Lu admitted that China is still behind in software, as high-efficiency software development depends on the overall scientific and technological level of the nation.
She called for more understanding and less accusation to encourage China's supercomputer cause.