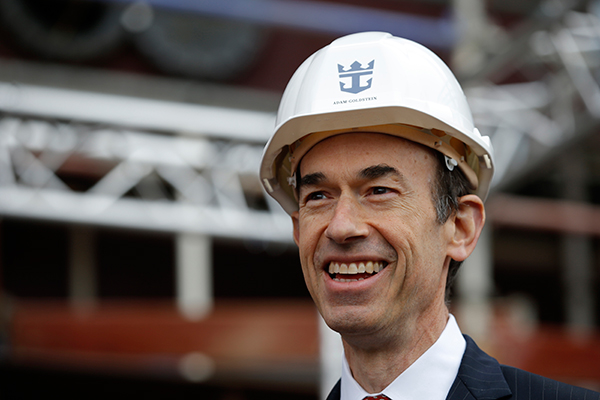 Adam Goldstein, president and chief operation officer of Royal Caribbean Cruise Ltd. [Photo/Agencies]
Top cruise line's chief optimistic about more opportunities in China market
Unlike most Harvard law degree holders who spend most of their time in the courts, Adam Goldstein chose to lead a maritime life 27 years ago. Now, he is navigating Royal Caribbean Cruises Ltd into the promising China market.
After working for two years as a lawyer in New York, Goldstein met the turning point in his career -- an opportunity to work in a shipping company in London. Later, he took an MBA course in France before joining the cruise industry and working side by side with Richard Fain, chairman and CEO of the Miami-based company. His brilliant work won his current position -- president and COO of the world's second-largest cruise line operator.
The quick development of Royal Caribbean International, which accounted for two-thirds of the Royal Caribbean Cruises' revenue, coincided with the appointment of Goldstein as CEO in 2004. Just like his career move, the brand also broke routines by bringing the largest cruise ships to the world's most promising cruise market.
This summer, Royal Caribbean will have five ships homeporting in four Chinese cities -- Shanghai, Tianjin, Hong Kong and Xiamen -- including two 168,000-ton Quantum-class vessels, each costing about $1 billion to build. The total capacity in China this year will be more than the entire company had in 1988, when Goldstein first joined Royal Caribbean.
Goldstein spoke to China Daily during his latest trip to the country. Following are edited excerpts from the interview.
What's your mission on this trip?
When I come to China, I usually have three missions. One of them is to interact with our constantly growing team and people.
Second, to understand how we are doing in building demand in the market for our products and services.
We have five ships here this summer, that's a lot more capacity here in China (16,500 berths) in 2016 than the entire company had (9,200 berths) when I joined in 1988.
The third thing is to make sure there are enough homeports and enough ports to call in the growing market to offer the right itineraries to the guests and to make sure that our big new ships have places to go.
China is widely regarded as the world's fastest growing cruise market and is expected to overtake the united states to become the largest in the future. do you agree?
The generation of income and wealth in this country in the last 25 years has put millions of people in the position where they have the ability to travel internationally, 120 million people leaving the country last year on travelling. The cruise industry will be driven super fast even with a very small percentage of that amount. There were more than 1 million people who went on cruises in China last year, and it will be much more this year.