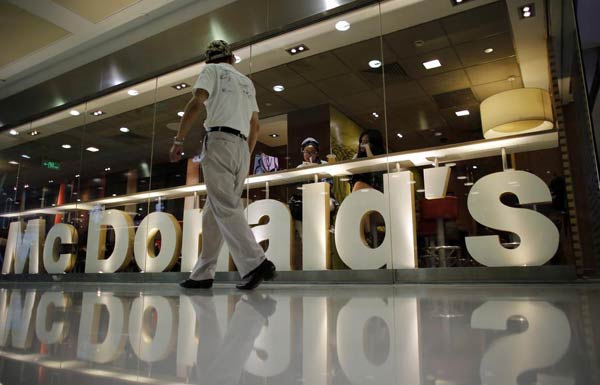 A man walks next to a McDonald's restaurant at a shopping mall in Shanghai July 28, 2014.[Photo/Agencies]
In an effort to tap the huge potential of fast-food market, McDonald's China said on Thursday that it plans to identify strategic partners to advance its growth plans in the country.
The move is expected to add value within its organization and further enhance its investment and competitiveness in the country. Strategic investors will together hold "majority shares" in Chinese mainland.

Currently, McDonald's operates 2,200 restaurants, 35 percent of them as franchisees, in Chinese mainland. The company is also seeking strategic investors in Hong Kong and South Korea.
CEO Steve Easterbrook said in an exclusive interview with China Daily in Beijing that they are committed to China - which is now their third-largest market in the world - for the long term and plan to open 250 restaurants each year in the next five years.
He said he remained open-minded and interested to potential investors. The candidate they are looking for will have a combination of exceptional integrity, a deep understanding of the Chinese market, financial capacity, as well as competitive strengths that will enable the fast-food giant to accelerate growth in China, he said.
Explaining why the company is seeking strategic investors, Phyllis Cheung, CEO of McDonald's China, said: "We need to accelerate our growth and expand our business presence in China.
With the introduction of strategic partners, we will be able to tap into the rich local resources and be self-sufficient with more access to investment capital to unlock our growth potential.
We will also be able to make faster local decisions by being China centric to achieve our goal of being the second-largest market for McDonald's."
China is expected to overtake Japan to become the second-largest market for McDonald's globally after the United Sates by 2020. The company has appointed Morgan Stanley to identify potential investors and it is expected to announce more details in due course.
McDonald's rival Yum Brands Inc, the parent company of KFC, Pizza Hut and Taco Bell, decided to split off its China business into a separate company last October.