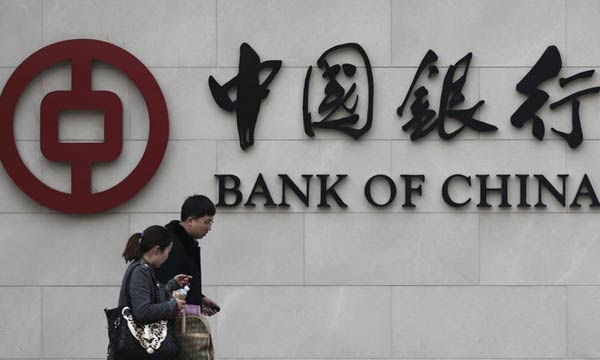 Pedestrians walk past a Bank of China sign at its branch in Beijing March 26, 2014. [Photo/Agencies]
Bank of China Ltd plans to officially open its branch in Prague, the capital of the Czech Republic, in April, targeting corporate clients – both Chinese and local.
Launched on August 31, it is the first and only branch established so far by a Chinese bank in the Czech Republic. It aims to promote China's financial globalization and renminbi internationalization, support the development of Chinese companies that are expanding their business overseas, and provide financial services to Chinese and local clients, following the guidance of the Belt and Road Initiative.
Apart from opening bank accounts, it will offer trade financing, project financing and international settlement products as well as working capital loans. Bank of China will also strengthen its cooperation with local financial institutions and fellow Chinese lenders such as the China Development Bank to provide syndicated loans.
Tian Guoli, chairman of Bank of China, told a China-Czech Business Forum in 2014 that China's outbound investment is expected to exceed $500 billion over the next five years, and part of that could be used to provide financial support to infrastructure and other major projects in the Czech Republic.
He said the two countries have huge potential for cooperation in the areas of infrastructure development, manufacturing, tourism and financial services. China offers a large market in retail consumption, natural resources and environmental protection, while the Czech Republic offers advanced technologies in biomedical sciences, environmental protection and brewing.
Major Chinese banks, especially large State-owned commercial lenders, are expanding their global network in an effort to serve an increasing number of Chinese companies that are investing overseas or trading across borders.
As China's fourth largest State-owned commercial lender by assets, Bank of China had set up branches in 46 countries and regions by the end of December 2015, including 18 countries along the routes of the Belt and Road Initiative. In addition to the branch in the Czech Republic, the bank also established new branches in Laos, Myanmar, Austria and Morocco last year.
He Jingtong, a professor of finance at Nankai University, said, "By setting up branches in Europe, Chinese banks will change the situation that Chinese companies have to make financial transactions via banks based in Paris and London. Instead, Chinese banks can provide financial services to both Chinese and local companies in Europe, either on their own or through cooperation with other large banks."
Guo Tianyong, director of the Research Center of the Chinese Banking Industry at the Central University of Finance and Economics in Beijing, said, "Chinese banks had a good start in terms of their global expansion and set up quite a number of branches worldwide. They cut into the international market by following and serving Chinese companies that are doing projects overseas. But it will take long for them to become localized and receive wide recognition in other countries."
With more Chinese banks going global along with Chinese companies, the use of renminbi in cross-border trade and investment has grown rapidly since 2009, according to Hu Xiaolian, deputy governor of the People's Bank of China, the central bank.
As of October 2014, the PBOC had signed bilateral currency swap agreements with 26 central banks and monetary authorities. The total quota was almost 2.9 trillion yuan ($445 billion).
Zhi Luxun, deputy director-general of the department of foreign trade at the Ministry of Commerce, said, "The Chinese government is looking forward to increase the trade volume and the level of diversity for trading through the multilateral and bilateral currency swap mechanism. In this way, China could not only reduce its reliance on the US dollar but also deepen its economic exchanges and trade with Eastern Europe."
"At the same time, the Eastern European countries, such as the Czech Republic and Hungary, are eager to attract investments from large and powerful Chinese institutions. With the investments, it will be convenient for Chinese companies that are expanding globally to grow their business in these countries."