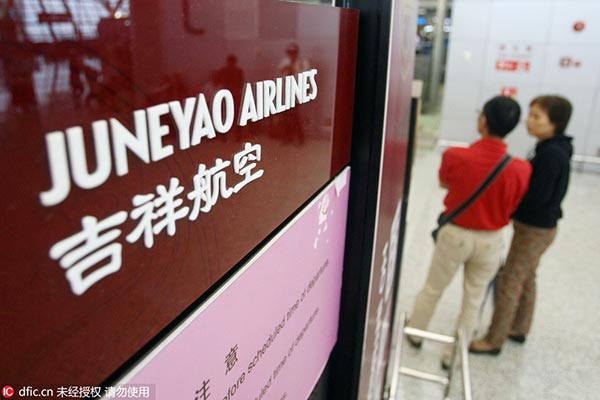 Chinese passengers talk next to a signboard of Juneyao Airlines at the Shanghai Pudong International Airport in Shanghai, September 23, 2014.[Photo/IC]
Cheap fares and no legacy are helping China's budget airlines beat State-owned carriers in the stock market.
With combined fleets exceeding 1,000 planes, $31 billion in market values and up to 20 times more workers, State-controlled China Southern Airlines Co, China Eastern Airlines Corp and Air China Ltd on average provide just one-third the returns of Spring Airlines Co and Juneyao Airlines Co, according to data compiled by Bloomberg. Even the Chinese regulator has lauded Spring as a model of efficiency.
Investors have driven up shares of Juneyao fourfold since the stocks listed last year, while Air China, the leader by market value, has fallen 47 percent in the same period. The data also suggest the three carriers need to step up the pace of reforms to better exploit growth in the Chinese air travel market, poised to become the world's largest within two decades.
"Spring and Juneyao don't have the baggage of legacy like the State-owned airlines," said Cao Xuefeng, an analyst at Huaxi Securities Co in Chengdu. "They were started as profit-driven businesses and cost-efficiency for them extends to all aspects of their operations, not just their smaller workforces and cheaper tickets."
Spring's return on equity was 28.1 percent in the 2014 financial year and Juneyao's 23.6 percent, beating the 12.5 percent generated by China Eastern, the best performer among the three State carriers, the data show. Revenue at Juneyao and Spring jumped 88 percent and 60 percent, respectively, in the last three years, surpassing the 25 percent at China Southern, according to the data.
Several airlines have sprouted up in the past few years hoping to capture some of the growth in air travel, but Spring, established in 2005, remains the most successful example of budget carriers in China. CAPA Center for Aviation estimated in November 2014 that about 19 airlines were formed in the year after China voiced support for the development of low-cost carriers in November 2013.
Juneyao, established in 2006, considers itself a "high-value carrier"-offering full services on a lower cost base. The company started a low-cost carrier, 9 Air, in 2014. Juneyao Chairman Wang Junjin expects the Guangzhou-based unit to break even by the end of this year.