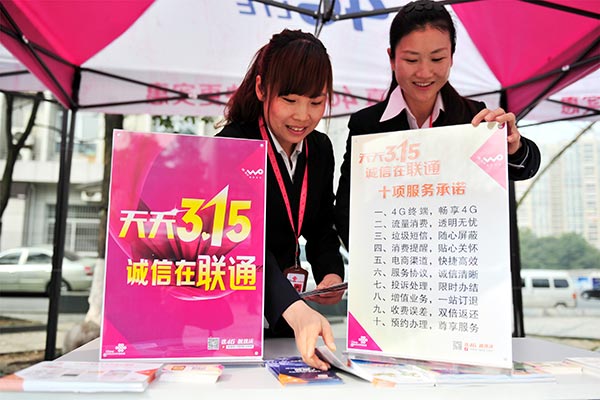 A China Unicom stand offering customer rights information in Yichang, Hubei province. [ZHANG GUORONG / FOR CHINA DAILY]
China United Network Communications Group Co Ltd said on Thursday it is building a nationwide network of Internet data centers, which will be able to host 4 million computer servers.
The move is the latest effort by China Unicom-the country's second-largest telecom carrier by subscribers-to boost its presence in cloud computing as it is eagerly looking for new growth points to shore up its declining revenue.
Lu Yimin, general manager of China Unicom, said the company will step up efforts to build Internet data centers across the country. It is planning to build a key center in each province and multiple small centers in remote regions.
"When completed, the total area of these data centers will exceed 2 million square meters, which will lay down a sound base for the development of cloud computing," Lu added.
The company did not offer a timetable for the project or disclose the investment figure.
Currently, China Unicom is running six key Internet data centers and dozens of smaller centers, which host roughly 1 million servers.
The data center plan comes as China's telecom carriers are looking for new revenue sources as their once lucrative business-text messages and voice calls-are affected by Internet-based messaging services such as Tencent Holdings Ltd's WeChat.
China Unicom said earlier this month its net profit fell 12 percent to 10.56 billion yuan ($1.63 billion) in 2015 while its revenue dropped 2.7 percent.
Market leader China Mobile Communications Corp and smaller rival China Telecommunications Corp are also intensifying their investment in cloud computing.
Xiang Ligang, founder of the telecom industry website cctime.com, said cloud computing will play an increasingly greater role in generating revenues for telecom carriers.
"Telecom carriers have abundant infrastructure resources such as backbone networks and Internet data centers, which give them a natural edge in cloud computing," Xiang said.
Internet giants Baidu Inc, Alibaba Group Holding Ltd and Tencent are all renting China Unicom's Internet data centers to offer cloud-computing services.
"As the cloud-computing sector in China really takes off, there will be a huge demand for Internet data centers, which will help further grow telecom carriers' revenues," he added.
According to Ni Guangnan, an academician at the Chinese Academy of Engineering, the cloud-computing market in China is likely to grow from $23.1 billion in 2015 to $70 billion in 2018, which will account for 22 percent of the global market.
Fu Liang, an independent telecom expert, said when it comes to cloud computing, telecom carriers focus more on hardwares such as building Internet data centers, while Internet companies place more emphasis on offering services and cloud-computing solutions.
China Unicom set up a cloud-computing unit in 2013, which has seen its revenue more than doubled to 7 billion yuan within two years.