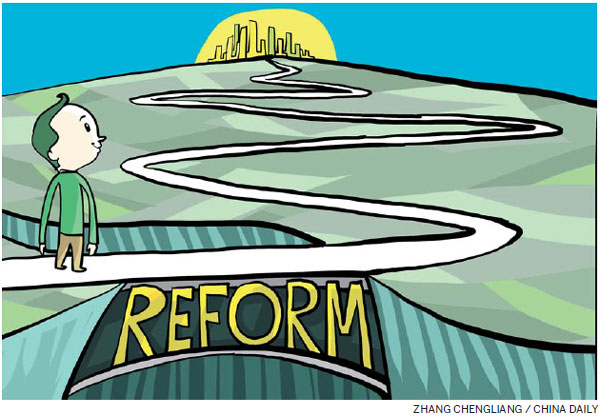 BEIJING - The State Council, China's Cabinet, on Thursday unveiled this year's top economic reform priorities.
The reforms for 2016 touched upon 10 fields, ranging from State-owned enterprise (SOE), to the opening-up policy, the State Council said in a statement.
The central government said it will encourage private enterprises to take part in the SOE reform and private capital will be allowed to invest in key sectors including power, oil, natural gas, railway, aviation and telecoms.
To boost sustainable growth, the government will unveil more measures to help researchers commercialize their findings and facilitate innovation and entrepreneurship.
In the statement, the government vowed to further cut red tape, loosen controls on market access and investment, and push forward supply-side structural reforms, to reduce overcapacity, destock, deleverage, reduce costs and shore up weak growth areas.
In terms of taxation, the VAT program will expand to all industries this year, while taxes on imported consumer goods are expected to be slashed, easing the tax burdens of both enterprises and ordinary consumers.
In the financial sector, China vowed to promote renminbi convertibility on the capital accounts "steadily and cautiously" and launch a stock connect program between the Shenzhen and Hong Kong bourses in 2016.
To push urbanization, plans will be formulated to help 100 million rural residents relocate to cities.
The government will further open its manufacturing and service sectors to foreign investors and simplify the procedures to start a foreign-funded company.
In addition, China will make more efforts to protect the environment through emission cuts and returning more marginal farmland to forest or grassland, the statement said.
The National Development and Reform Commission, the economic planner, will be responsible for supervision and evaluation of the reforms' implementation, it said.