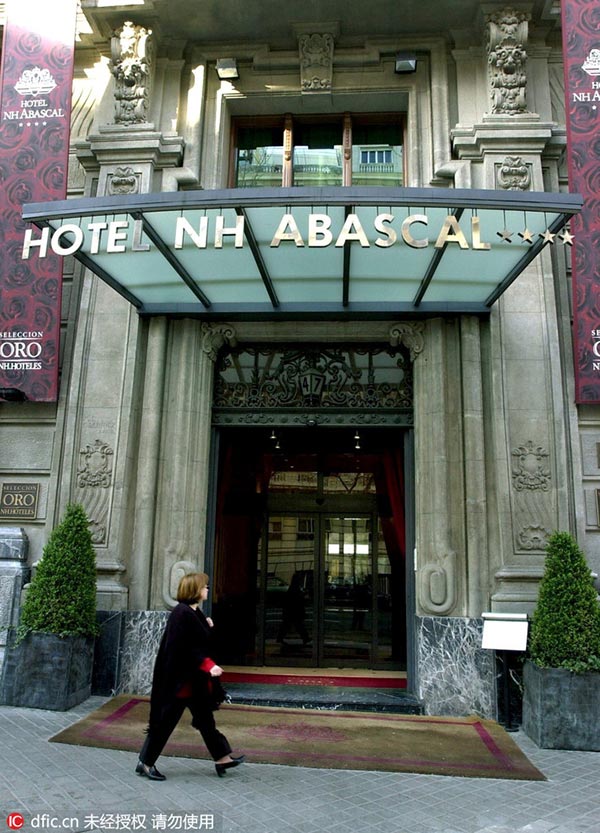 A woman passes by the entrance of one of the NH Hotels in Madrid on February 25, 2012. [Photo/IC]
Properties will be developed through a joint venture between NH Hotel Group and HNA
NH Hotel Group SA, the largest hotelier in Spain, has entered the Chinese market with a plan to open 120 to 150 hotels by 2020.
The properties will be developed through a joint venture between NH Hotel Group and HNA Group, China's fourth-largest airline group and also the biggest shareholder in NH, said Federico Gonzalez Tejera, CEO of the Spanish chain.
"We spent some time to analyze the Chinese market and understand the consumers here before we entered the market," Tejera said on Wednesday, adding that this was the reason NH entered the Chinese market three years after HNA became its shareholder.
The rising middle class in China will be a major factor in driving the world's tourism market and it is also an opportunity for NH to bring China into its global plan, he said.
The first two NH hotels in China are already under construction and they are expected to open in the second half of this year, said Markland Blaiklock, managing director of NH Hotel Group in China.
The hotels are located in Hainan province. One property in Haikou, with 1,001 rooms, will be the largest NH hotel in the world, Blaiklock said.
The joint venture expects to develop 10 to 20 hotels in China this year and it has already started work on some projects in some first- and second-tier cities, he said.
The long-term target of NH is to build 120 to 150 hotels in China, Blaiklock said.
"It is ambitious, but realistic," he added.
During the past three years, China's hotel industry, especially the high-end hotels, has suffered from oversupply and the effects of the government's tough anti-extravagancy policies.
But some business insiders said the situation is getting better. Statistics from Jones Lang LaSalle, the Chicago-based real-estate consultancy company, showed that in 2015, the average occupancy rate of Chinese hotels was expected to increase by 3 percentage points to almost 60 percent from the previous year.
"China's hotel industry is recovering and most cities still have potential to grow," said Jesper Palmqvist, area director of STR Global in the Asia-Pacific region, a hotel research company.
Palmqvist said leisure tourism will support the business growth of hotels in travel destinations.
Two brands of NH Hotel Group, including NH Collection and NH Hotels, have come to China targeting different groups of consumers, said Blaiklock.
NH Hotels with three or four stars will account for 60 to 70 percent of the group's hotels in China, as the medium-end hotels have huge demands in China, Blaiklock said.
NH Collection, a high-end brand, will be located only in first-tier cities, he said.