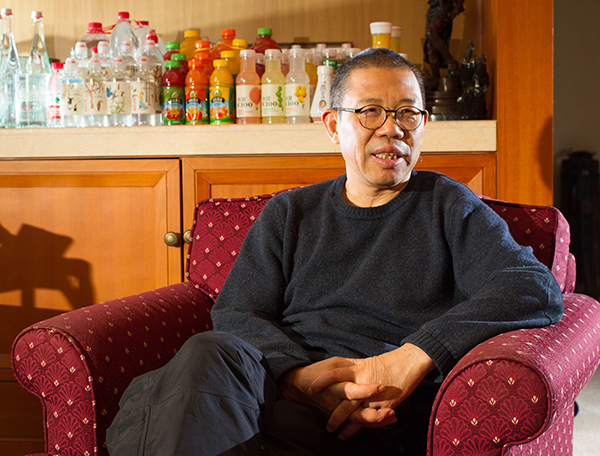 Zhong Shanshan, founder and chairman of Nongfu Spring Co Ltd. [Photo provided  to China Daily]
Chairman Zhong Shanshan is digging new channels to let China's bottled water flow into world markets
Zhong Shanshan wants Nongfu Spring's branded packaged drinking water to be more than just sweet.
The founder and chairman of Nongfu Spring, a household name in China known for its red-cap packaged water bottles-annual sales: 15 billion bottles-wants his aqua to taste and be "natural" as well.
For decades, Nongfu Spring rode on its popular catchphrase "a little bit sweet". So much so Chinese consumers believed sweet water is better water.
But, as competition in China's bottled water market intensifies with the entry of premium foreign brands such as Evian and Perrier, the 62-year-old journalist-turned-businessman is sharpening focus on Nongfu Spring "being natural".
In 2015, he inaugurated the company's latest factory that sources natural spring water from Changbai Mountains in Jilin province. Before then, he promptly got advertisers to portray Nongfu Spring as "the transporter in the natural world, instead of a manufacturer of water".
The new factory site is tucked north at the foot of the mountain range that forms a natural border with the Democratic People's Republic of Korea. The site's location, Changbai, means "perpetually white" in Chinese. It marks the eighth source of water for the company that now owns and operates 16 factories in China. It is estimated to contribute no more than a quarter of the total water supply used by the company.
But for Zhong, the factory signals "a new start for the company", if not the domestic bottled water market.
"They (the three new products made at the new factory) are not tailored for use as thirst-quenchers," said Zhong in an exclusive interview with China Daily.
They are labeled premium table water, water for baby and teenager drink respectively.
One distinguishing feature of the three varieties is they are value-added with minerals, unlike the regular purified water.
The premium table water also comes in attractive designer glass bottles, complete with a painted image of a silhouette and animals found in the mountainous region. Of the three new varieties, it is the most expensive at 50 yuan ($8) for 750 ml. The regular 550-ml packaged water bottle retails for no more than 3 yuan.
The premium table water variety is also Nongfu Spring's priciest ever.
"Twenty years ago, people drank packaged water because they were thirsty. Now, they drink it to wash down the bubbly or sour wine," said Zhong. "Wherever there is wine, there should be (packaged drinking) water."