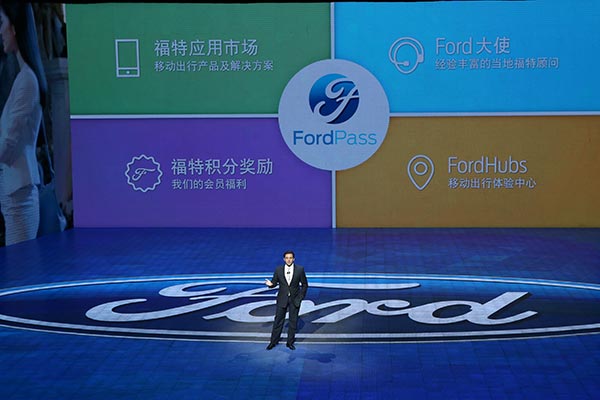 Mark Fields, Ford president and CEO, speaks at the company's pre-show event called Innovation Night held on Saturday in Beijing.[Photo provided to China Daily]

Automaker to provide mobility solutions that re-imagine drivers' experience
Besides producing and selling vehicles, Ford Motor Company is planning to provide mobility solutions that can open up huge business opportunities and chances of improving people's lives, said its top executive.
"Simply put, we are moving from being an auto company to an auto and mobility company in one of the most dramatic changes in our 113-year old history," said Ford President and CEO Mark Fields at the company's preshow event named Innovation Night held on Saturday in Beijing.
Fields said Ford has a six-percent share of the $2.3 trillion annually generated by the automotive industry but automakers, including Ford, make next to nothing from the $5.4 trillion in annual revenue from mobility services.
"So that is a massive opportunity and we are getting serious in investing in, innovating in and leading in those areas," said Fields.
He said a more important opportunity is the goal of changing the way the world moves and building a better life for people.
The automotive industry is growing globally but a revolution in mobility is around the corner due to the rising number of megacities, the growing middle-class, deteriorating air quality and people's changing preferences in mobility, he added.
In a recently commissioned Ford survey with GlobalWebIndex, 40 percent of daily commuters in China said their experiences on the road are worse compared to last year, while a quarter said it is the worst part of their day.
Forty percent said their commute is more expensive compared to last year.
"So it is no wonder that solving mobility challenges globally is becoming a key focus for so many," said Fields.
Major partnership
In China late last year, Ford partnered with Dida Pinche, the biggest ride-sharing platform in China. During its first phase, the partnership generated 165,000 individual rides for a total of 2.5 million kilometers.
Data was also collected from 90,000 buses in Chonqing, a large city in Southwest China, to analyze people's mobility preferences.
Those moves are paving the way for Ford's smart mobility plan, which Fields and Ford Chairman Bill Ford unveiled at the Consumer Electronics Show in Las Vegas in January.
The plan would take the company to new levels of connectivity, mobility, autonomous driving, customer experience and big data, said the automaker.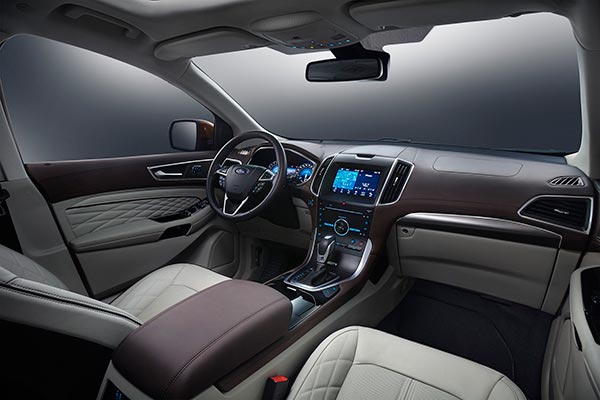 The SYNC 3, the latest generation of in-car connectivity system, in the Ford Edge. [Photo provided to China Daily]
As part of this initiative, Fields said that FordPass, which reimagines the customer experience and aims to do for car owners what iTunes did for music fans, will be launched in China.
The digital, physical and personal mobility experience platform has four main components: Marketplace, FordGuides, Appreciation and Ford-Hubs.
Through those four modules, the platform will help users with the mundane, such as talking to online assistants for help on finding and paying for parking more easily as well as renting and sharing vehicles on trips, to the educational, such as exploring the company's latest innovations, learning about its mobility services and experiencing exclusive events.
'Flawlessly' in the dark
Another part of Ford's smart mobility plan is autonomous vehicles, which the automaker has developed for more than a decade.
"We are in the process of taking another big step forward by tripling the size of our test fleet to 30 fully autonomous Fusion hybrid sedans," said Fields.
"And by the end of this year we will have the largest autonomous vehicle fleet of any automaker."
He said Ford will be the first automaker to test autonomous driving in the snow and has proven its autonomous vehicles can work "flawlessly" in the dark.
"We are very serious about autonomous driving. Our priority is for our autonomous vehicles (to be) accessible to everyone and not only those who buy luxury vehicles."
In terms of connectivity, Ford showcased its latest generation of in-car connectivity system, SYNC 3, which highlights how it is using advanced technology to change the way the world moves.
Initially available in China in the Taurus and Edge, Fields said it will allow drivers to control their entertainment, climate settings and navigation, as well as their connected smartphone, all with simple and conversational voice commands.
The system will enable drivers to control their phones in 15 Chinese dialects, which is key in China, where 45 percent of the nation's drivers use their mobile phones and where 31 percent are likely to send messages when stuck in traffic, according to a recent Ford survey.
It features an 8-inch touch screen featuring larger buttons that are easier to operate, including pinch and swipe gestures.
Drivers will also be able to handwrite an address using a finger directly on the navigation screen, which can recognize thousands of Chinese characters.
It also delivers SYNC AppLink, enabling voice-activation for a range of smartphone apps, including Sina Weather, Qingting FM, Ximalaya, QQ Music, Kaola FM and CNR, said the automaker.