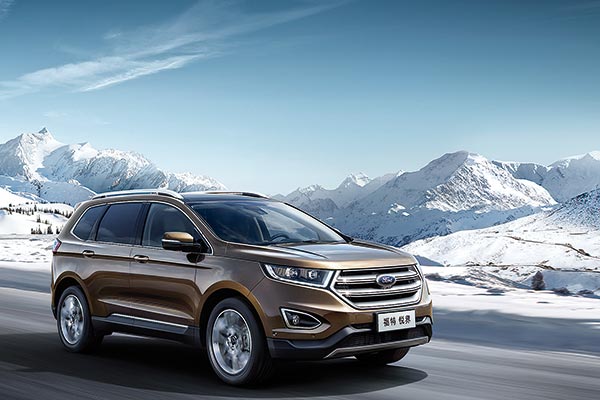 The Edge, Ford's Chinese-produced, seven-seat sport utility vehicle, comes with unique intelligent technological configurations.[Provided to China Daily]
The Edge, Ford's Chinese-produced, seven-seat sport utility vehicle, has helped the American automaker take a leading position in the middle and large-size SUV segment with its strong market performance in China.
China sold 13,638 units of the Edge in January. That figure set a monthly record for its producer Changan Ford Automobile Co Ltd, the joint venture between China's Changan Automobile and Ford Motor Co.
The Edge reached the Chinese market at the beginning of last year. The model's powertrain system gives the carmaker the confidence to surpass its competitors.
The SUV is equipped with a new 2.7-liter EcoBoost GTDi V6 twin turbo engine, which can reach a maximum output of 329 kW. It accelerates from zero to 100 km/h in 7.5 seconds. The model can handle all kinds of road conditions.
The upgraded and new 2.0-liter EcoBoost GTDi twin turbo engine adopts advanced technology, which further improves the Edge's power and fuel economy.
Combined with the new S/S automatic start/stop system, the model has a good fuel economy, especially in the congested road conditions of many major cities in China. The paddle shifters that are standard with the model also give drivers the freedom to enjoy driving.
The model's long wheelbase of 2,850 mm gives ample space for all passengers. The Edge is the only model in the segment that is equipped with seven foldable power seats, according to the automaker.
The model also comes with several unique intelligent technological configurations to give consumers more luxury and an easy driving experience, including a 360-degree panorama image visual system and Glare Free LED headlights. This is the first time Changan Ford has installed such technology in a seven-seat medium-sized and large SUV.
The advanced ANC active noise control system provides a quiet riding environment. The AWD intelligent four-wheel drive system can identify road conditions automatically and distribute the power of each wheel accordingly, which could prevent skidding on icy or wet roads.
The standard configuration equipment-including seven airbags, a tire pressure monitoring system, back row seat heating, heated steering wheel and constant temperature air condition system-highly improve the daily driving experience.
Changan Ford believes that with the official launch of the two-child policy in China, along with the trend for many Chinese families to change cars or buy a second car brought by improved economic conditions, market demand for seven-seat medium-sized and large SUVs will grow, and competition will become more fierce.
The automaker predicts a bright future for the Edge, saying it "will continue as a legend in the segment as a leader".