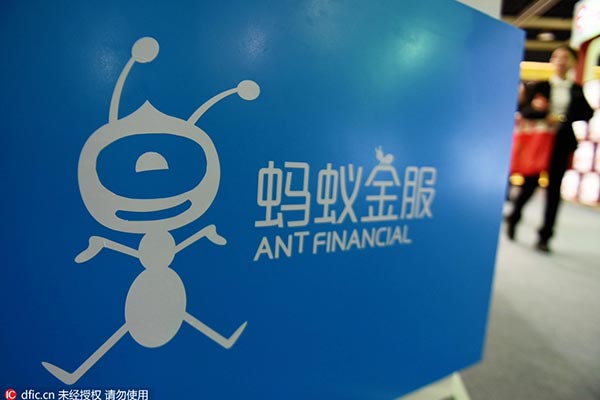 Ant Financial Service Group said the company has raised a record $4.5 billion in a new round of funding to bankroll its global expansion. [Photo/IC]
The internet financial services affiliate of e-commerce conglomerate Alibaba Group Holding Ltd announced on Tuesday that it has raised a record $4.5 billion in a new round of funding to bankroll its global expansion.
Ant Financial Service Group, which operates China's largest online payment service Alipay, said in a statement that the funding marked the largest ever single private placement by an internet company.
Ant Financial aims to provide equal access to financial services, namely payments, wealth management, micro loans and insurance, globally.
"The capital raised in Series B will allow us to invest in the infrastructure, such as cloud computing and risk control, that will underpin our long-term growth in rural and international markets," said Eric Jing, president of Ant Financial.
According to a report from Bloomberg, Ant Financial aimed to raise at least $3.5 billion at a valuation of $60 billion and is considering an initial public offering on the Shanghai Stock Exchange as early as this year. Ant Financial refused to comment on the report.
The latest funding came months after Ant Financial announced in July 2015 its first round of fundraising, which valued the company at $45 billion.
A powerful State-backed consortium led by China Investment Corp Capital and CCB Trust, a subsidiary of the China Construction Bank, participated in the funding round.
Industry observers said that rather than driven by the thirst for financing, Ant Financial's new round of funding is more about raising the profile of the company so that it can better extend its reach overseas.
"Backed by Alibaba and billionaire Jack Ma, Ant Financial is already equipped with enough funding and the endorsement from a long list of powerful State-backed investors before the new round of funding," said Li Chao, an analyst with the iResearch Consulting Group.
"But by expanding its services overseas, Ant Financial can not only gain more customers overseas but also export its standard of interent financing services to other countries. In doing so, there is very big chance for it to become a global leader in internet finance," he said.
According to him, Ant Financial does face competition from the internet financial service providers such as Tencent Holdings Ltd and JD.com Inc, but it doesn't challenge its No 1 position in China.
Established in October 2014, Ant Financial has grown from Alipay, which provides payment services for e-commerce marketplaces, to become a comprehensive and open ecosystem providing financial services ranging from payments, wealth management and insurance to micro loans for small and micro enterprises and individual consumers.