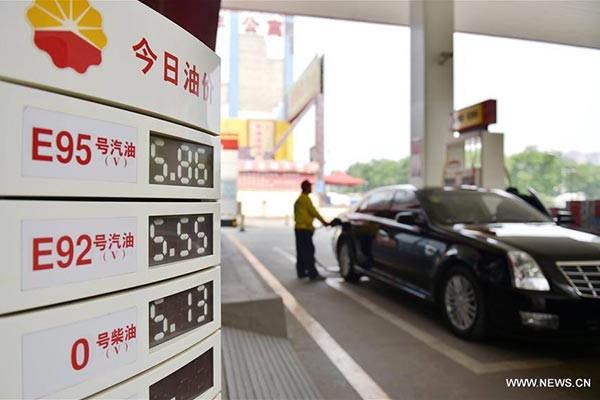 A staff member refuels a car at a gas station in Shijiazhuang, north China's Hebei Province, April 26, 2016.[Photo/Xinhua]
BEIJING - China will raise the retail price of gasoline and diesel starting Wednesday, the first rise this year, the National Development and Reform Commission (NDRC) announced on Tuesday.
The retail price of gasoline and diesel will rise by 165 yuan ($25.4) and 160 yuan per ton, respectively.
This is the first adjustment since China made changes to its oil pricing mechanism in January, which set a floor for adjustment to buffer the negative effects of violent fluctuations in international oil prices.
Under the updated mechanism, China will adjust the domestic prices of refined oil products when international crude prices translate into a change of more than 50 yuan per ton for gasoline and diesel for a period of 10 working days, except when international prices go below $40 or above $130 a barrel.
Before the new mechanism came into effect, China suspended price cuts twice, citing energy conservation and environmental protection as major reasons.
The NDRC said it will closely monitor the effects of the new pricing mechanism and improve the method in response to changes in the global market.