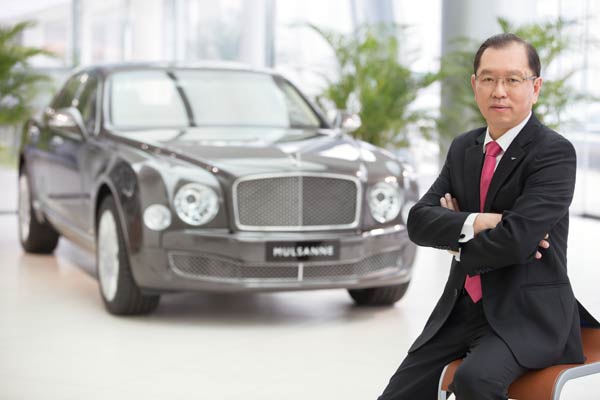 Ricky Tay, managing director of Bentley Motors China. [Photo provided to China Daily]
British brand's sales grow despite market challenges
Although China's luxury vehicle market is facing challenges amid an economic slowdown and government efforts to curb spending, British premium brand Bentley saw a robust increase in its second-largest market in the world.
"Fueled by Chinese consumers' recognition and enthusiasm for our brand and vehicles, we will maintain the pacemaker position to be the most desirable brand in the segment with top level service and high performance products," said Ricky Tay, managing director of Bentley Motors China. "We are the benchmark."
According to Tay, in the first three quarters of this year, Bentley delivered 1,959 vehicles to Chinese consumers. This nearly matched the total sales of 2,191 in the whole of 2013, when China accounted for 22 percent of the company's global sales, second only to the United States with 31 percent.
"The robust increase this year also made China, our most important strategic market, the fastest growing one for Bentley," Tay said.
The managing director predicted that 2015 would be another challenging year, as he said the market is likely to reflect similar demands seen this year. "The growth will come from the entry-level luxury models," he added.
Tay said he was confident in Bentley's market performance due to the strong products and strengthening emotional connection with Chinese consumers.
"After 10 years development in China, we now only provide three models for Chinese enthusiasts, the four-door Mulsanne, Flying Spur and two-door Continental. In the coming year, Bentley will accelerate new product launches in China," said Tay.
At Guangzhou Auto Show last month Bentley introduced the Mulsanne Speed to Chinese consumers. The flagship model was meant to represent a fast ultra-luxury driving experience with both sporty performance and comfort.
"It's the car that defines Bentley, as a flagship for driving luxury performance. Our customers don't compromise, and we have adopted the same approach in the design, engineering and crafting of our new flagship model," said Tay. "The Mulsanne Speed is distinguished, calm and relaxing, but always with a connection to the road and relentless dynamic performance on demand. In this car, every journey becomes a drive."
Tay said that the company's first SUV model was going through the test phase and is due to hit the market in 2016. "The ultra luxury SUV will help accelerate Bentley's sales," he said.
Bentley found that the brand's Chinese consumers are becoming younger and enjoying driving by themselves more, especially during weekends.
"The average age of Bentley customers in China is between 35 and 40 years old, 10 years younger than those in the US and Europe. They are more discerning and demanding," Tay said.
To better serve this group of young elite, who often buy the cars to reward their own success, Tay said the company would invest heavily in dealerships in the coming year.
"We will put 10 times more investment and effort into developing new customers than maintaining the current client relationship," said Tay. "In 2015 Bentley will provide more test cars to dealers, as we found 65 percent of consumers who tried our vehicles made the purchase decision."
Tay told China Daily that Bentley would also further enhance its bespoke tailormade service.
"Chinese customers are not buying just a Bentley, they buy their own Bentley, which requires us to give 100 percent focus to listening to all their ideas," he said.
Bentley Studios in regional markets in China help interact and communicate with Chinese consumers and send feedback to Bentley's department for bespoke services in the headquarters in Crewe, in the United Kingdom.
"More Chinese consumers have started to tailor-make their Bentley with many innovative ideas, which also brought new elements to our brands," said Tay.