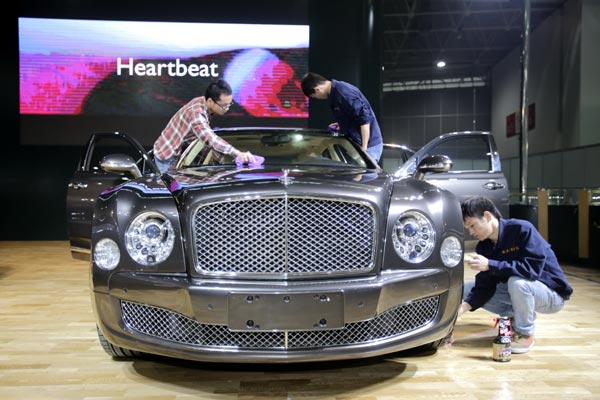 A Bentley vehicle gets prepped for public display at an expo in Wuhan, Hubei province, in October. [Provided to China Daily]
China could overtake the US to become Bentley Motors' largest market within four years, Wolfgang Schreiber, chairman and chief executive of the British automaker told China Daily in an exclusive interview on Wednesday.
Schreiber said Bentley plans to sell 15,000 cars globally by 2018-an ambitious upsurge from its 2013 numbers-and by then, China's share could grow to 25 percent of global sales.
Schreiber spoke just after the company announced its 2013 sales figures at a news conference in London. Last year, Bentley sold 10,120 cars, a record for the company and a 19 percent increase over 2012's sales.
China is Bentley's second-largest market, with a 22 percent share, following the US' 31 percent. Bentley sold 2,191 cars in China in 2013, of which 927 were sold in the fourth quarter. It set a Bentley sales record for a single quarter across all markets and regions.
That strong growth coincided with batch deliveries to the Chinese market, starting in September 2013, of the new Flying Spur-the fastest high performance super-luxury four-door model Bentley has come out with.
"The new Flying Spur is tailor-made for China. We know that Chinese customers like high comfort and low noise level, and our attractive interior, with leather and new technology, delivers both," Schreiber said.
Other models that were launched by Bentley in China last year were the updated 2014 Mulsanne, the Mulsanne Seasons Edition and the Continental GT Speed.
The two-door Continental series attracted an increasing number of young and female consumers in China, with annual sales up by 46 percent from 2012.
Bentley added 12 new authorized dealers in China in 2013, bringing the total to 38 by the end of last year. In January, it added another: Bentley Suzhou.
Schreiber said his team selects dealers who understand the value of service, as it is core to the brand.