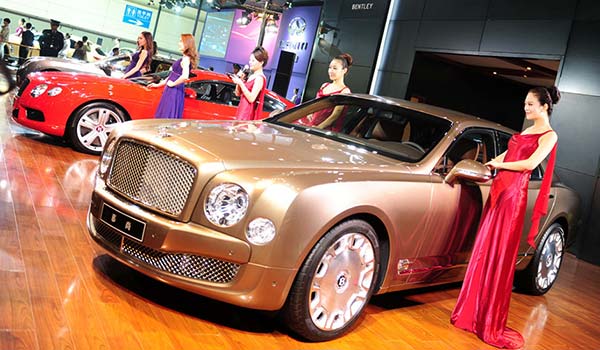 A Bentley M

ulsanne

is shown at the 5th Zhengzhou International Auto Exhibition in Zhengzhou, Henan province, on Nov 2, 2012. [Photo / Xinhua]
In a sign of how important the Chinese market is to Bentley, it opened 12 showrooms in the country in just four months in 2013. Total new showrooms around the world in the same period were only 14.
The luxury car manufacturer saw its sales remain stable in China in 2013, although deliveries witnessed a 2.8 percent drop to 2,191 units over the year.
In January 2012,
Volkswagen
, the parent company of Bentley, canceled general sales agent of Bentley in China and announced a one-year transitional period. During 2012, its annual sales reached 2,253 units.
The cancellation of the sales agent is considered to be helpful as Volkswagen was able to carry out management changes, improve sales efficiency and create new brand image. Several carmakers, including Volvo, Mercedes-Benz, Jaguar Land Rover, Ferrari and Aston Martin, have taken back the distribution channel from Chinese agent in the past three years.
China became Bentley's second-largest market in 2012 when its sales hit 1,839 units.
In January 2014, Till Scheer, Regional Director of Bentley Motors Greater China Region, was appointed as general manager of Volkswagen (China) Group Import Co.
More pictures: