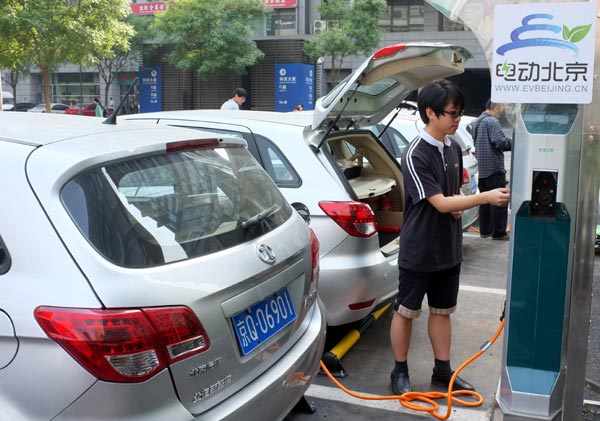 Tsinghua University Science Park in Beijing began offering 15 electric cars and 11 charging poles last year. Deng Jia / For China Daily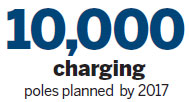 Beijing-Berlin conference hears plans for needed facilities
More charging poles will be installed in neighborhoods and public areas in Beijing to promote private use of electric vehicles, said participants in the recent Beijing-Berlin E-Mobility Conference.
The capital city plans to have 10,000 fast-charging poles by 2017, mostly at public parking lots, big shopping malls, auto dealers and gas stations, Zhang Jihong, vice-director of the Beijing Science and Technology Commission, said at the conference.
The goal this year is to install 1,000 fast-charging poles, with 300 now in place, he said.
Other facilities with charging outlets such as street lamps and parking garages as well as charging stations using solar power are under development, he said.
Wu Zhixin, vice-president of the China Automotive Technology and Research Center, outlined the Sino-German Electric Vehicle Charging Project during the conference.
The program will have government departments, research institutions, automakers and the real estate sector working together to find the best practical approaches to install charging facilities in neighborhoods.
"In some small cities in China where people live in houses and have their own garages, it is easy to establish charging facilities. But in Beijing where most people live in apartments, it is very difficult," Wu said.
"To install charging facilities in neighborhoods requires the cooperation of property management companies and also property owners committees," he said.
"Our goal is to make charging poles standard in the neighborhoods in the capital city just like the supply of water, gas and electricity," he added.
The Beijing-Berlin E-Mobility Conference on May 28 is part of celebrations to mark the 20th anniversary of friendship between the two cities.
During the meeting, government officials and industry insiders from both sides showcased the achievements of each city and exchanged views on electric vehicles.