China's booming 'sheconomy'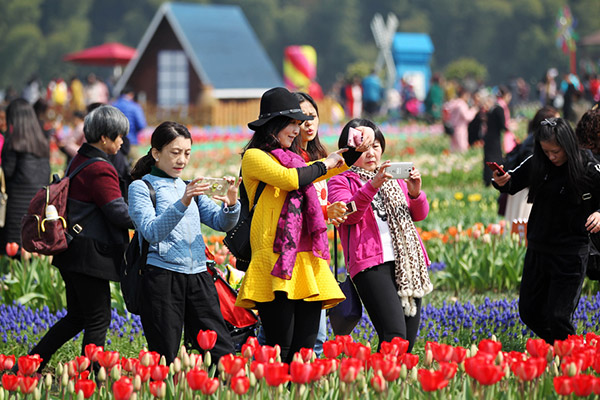 Tourists take photos of flowers at a park in Nanchang, Jiangxi province, March 8, 2017. [Photo/VCG]
SHANGHAI - On Wednesday, the International Women's Day, department stores, shopping malls and online shopping sites in China are readying themselves for the holiday to attract women and get them to spend on various gifts, clothing, and cosmetics.
Female consumers have become a key driver in China's consumption market in recent years. According to data released by Guotai Junan Securities, female consumption in China reached 2.5 trillion yuan ($362 billion) in 2015 and is expected to hit 4.5 trillion yuan in 2019.
The "sheconomy" appeared as a new word in China in 2007 and refers to the new economy resulting from a rise in female consumers.
Over the past 10 years, the sheconomy has played significant role in boosting China's consumer market in sectors such as e-commerce, tourism, medical cosmetology as well as vocational education.
E-commerce booming
"Queens' Day" and "Girls' Day" are terms put forward by China's online shopping sites ahead of the International Women's Day.
According to Amazon.cn, the number of new cosmetics brands joining this year's sales promotion has doubled from last year. The number of international cosmetics brands also almost doubled over the same period.
"With the upgrade of women's spending power and consumption demand, women consumers are paying more attention to product quality and brands," said a report released by Amazon.cn. "The international brands hope to seize business opportunities in the sheconomy in China by offering products with good quality and reasonable price as well as excellent shopping and service experience."
China's cosmetics market will surpass 800 billion yuan in 2018, including 350 billion yuan of online sales, and the apparel industry is expected to hit 3 trillion yuan by 2017, according to online consulting firm iResearch.
In the catering industry, a survey by iResearch said that more than 90 percent of women dine out at least once a month, and 35 percent two or three times a month. About 75 percent of women drink alcohol, and drinking wine is regarded as a fashion lifestyle by female consumers.
Women dominate tourism, cosmetology
Data show women are the main driving force of China's tourism market.
According to data released by Lvmama.com, an online travel agency, the number of outbound Chinese tourists rose by 75 percent during last year's Christmas and New Year holiday, and more than 70 percent were women.
Female consumers put more emphasis on the flying experience. Female passengers accounted for 45 percent of the total business class and first class reservations in 2016, an annual growth of 4 percent.
China's medical cosmetology industry took 550 billion yuan in 2015, and is expected to reach 1 trillion yuan in 2019, when China will surpass Brazil to become the world's second largest medical cosmetology market, according to China's National Bureau of Statistics.
Consumers aged between 18 and 40 are the major consumption groups, and 90 percent are female.
Analysts say that female consumption demand is conducive to industry innovation.
Shanghai-based Jinjiang Hotel, one of the largest star-rated hotel group in China, launched smoke-free rooms in 2007, which are popular with female consumers.
On March 1, the city started a ban on smoking in indoor areas of hotels, restaurants, entertainment venues, as well as public transport.
"The attempt at smoke-free rooms in our hotels fully prepared us for the strict smoking ban, which showed sound business innovation is driven by women consumption," an employee of the hotel group said. "Products and services should not only meet the demand of women consumers, but display appreciation and understanding to women, thus supporting the growth of the sheconomy."
Chances for vocational education
The rising of the sheconomy comes from the income increase of female employees and the promotion of women's status in the workplace.
At Amazon.cn, 50 percent of managers and above are women.
"Female staff enrich our teams' wisdom and enhances our company's creative ability," said Zhang Wenyi, president of Amazon.cn.
The number of female students studying for an EMBA rose from 32 percent in 2013 to 38 percent in 2016, and female students studying for an MBA increased from 34 percent in 2015 to 43 percent in 2017, according to Antai College of Economics and Management of Shanghai Jiao Tong University.