More women taking to the skies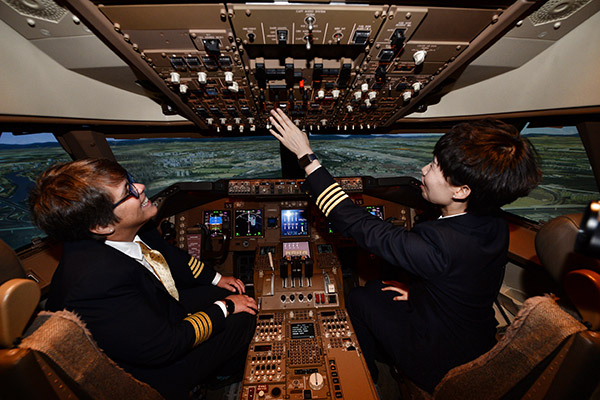 Women pilots Guo Hui (right) and Heather Ross in the cockpit of an Air China plane in Beijing. [Photo/China Daily]
In the civil aviation sector, where men still dominate jobs such as pilots and captains, more female pilots have started to emerge and assume important positions.
An increasing number of Chinese airlines are hiring female pilots. This year some airlines, including Air China, China Southern Airlines and Xiamen Airlines, are signing contracts with female pilots from high schools and colleges.
Globally, the proportion of female pilots is around 3 to 5 percent, and in China, the ratio is about 1 percent. Most women who work in the aviation industry are usually engaged in logistics or service jobs.
Guo Hui, the first female captain of a B787 at Air China, has been safely flying for more than 6,000 hours. Back in 2003, she was selected as one of the six female pilots of Air China, at a time when most other airlines in China made clear that they did not hire women pilots.
"I was one of the first groups of female pilots that Air China hired. Currently, Air China has about 2,000 to 3,000 pilots, and only about 20 are women," Guo said.
She said because of the difference in physical conditions, as a female pilot, she usually runs or does some exercises to boost her stamina.
"When I fly, I like to bring a hand-muscle developer to strengthen my grip. Meanwhile, I tend to use my spare time for simulator training, and improve my decision-making ability."
Heather Ross, the first female pilot to fly a B787 in the world and a former flight engineer, is currently assigned to the B777 and B777X program as a project pilot at Boeing Co.
Ross said in terms of flying skills, there is no difference between men and women, as for those latest advanced aircraft models, they don't have overly high requirements on physical fitness for either men or women pilots.
Meanwhile, more women tend to assume jobs as aircraft mechanics and cargo agents. Jaimee Thomson is an aircraft mechanic who has worked at Hawaiian Airlines for more than four years, and she is one of a few female mechanics in the sector.
"My current position was inspired by my fascination with electricity and my desire to not only challenge myself, but to broaden my overall knowledge and skills as an aircraft mechanic," she said.
"I wanted a job that would allow me to use my hands, exercise my brain, and physically move around and stay active. After moving to Hawaii in 2007 and meeting some aviation enthusiasts, I got my first taste of this exciting industry. I knew this was the job for me."