Boeing assures quick delivery of B737 Max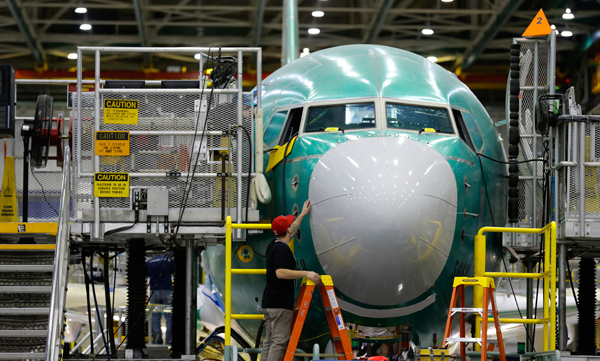 A worker inspects the nose cone of the second Boeing 737 Max airplane being built in Renton, Washington. AP
Boeing Co plans to deliver some of its new fuel-efficient B737 Max aircraft directly to Chinese customers from its fledgling completion and delivery center in Zhoushan, Zhejiang province, after the plant begins operations, the company said in Beijing.
The US aircraft manufacturer, which held a news conference in Beijing on Thursday, did not disclose when the new Zhoushan plant would start operating.
In October, Boeing revealed the city of Zhoushan, near Shanghai in eastern China, as the location of its first overseas B737 completion and delivery center, as it aims to meet the strong demand for single-aisle aircraft in China and international markets.
Boeing said it will deliver its first B737 Max jet around May this year and it has so far received more than 3,600 orders from over 80 customers globally. Airlines are attracted to the Max because it consumes significantly less fuel than existing models.
Compared with B737, the company says its B737 Max series will help save 14 percent on average on fuel bills and reduce noise by 40 percent, and the plane has a more spacious interior with more storage space for passengers.
Darren Hulst, Northeast Asia marketing managing director of Boeing's commercial airplanes group, said the B737 Max would have a flying range of 1,000 kilometers more than the B737.
"China has seen the fastest growth rate of short-haul domestic market and the B737 Max will help Chinese airlines to launch more direct routes to second- and third-tier cities and further stimulate market growth," Hulst said.
"Currently, one-third of the orders for the B737s come from China, our largest customer for the model. We could expect a similar proportion of 737 Max orders from China in the near future."
Boeing has forecast that China will need about 5,000 single-aisle aircraft in the next two decades.
Meanwhile, Boeing's European archrival Airbus Group SE is bullish on the growth potential of the single-aisle aircraft market in China.
The company said it is on target to deliver its first A330 in September 2017 from its new completion and delivery center in Tianjin, the company's first overseas completion and delivery site for the A330.
By 2019, the center aims to reach a stable production rate of two A330 aircraft a month.