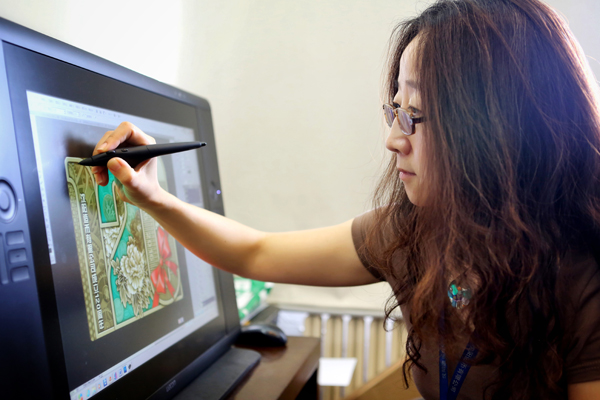 Chang Huan, who designed the set of seven giant panda-themed medals, at work. Shenyang Mint's first export order for these medals was worth $720,000. [Photo by Jiang Meng/For China Daily]
With legal currency like bank notes and coins being used less and less because of the growing popularity of mobile payment systems such as Alipay and WeChat Wallet, are age-old mints and security printing presses supposed to disappear into thin air, or become relics of the past, as demand for hard currency weakens and their workload becomes thinner?
Shenyang Mint Co Ltd, the 120-year-old subsidiary of China Banknote Printing and Minting, for one, is finding new ways to survive and thrive.
The State-owned enterprise is one of China's top four coin manufacturers. It is mainly responsible for designing and manufacturing 1-yuan and 0.1-yuan coins, and medals including the Olympic series and the panda series.
Its annual production capacity is over 8 billion coins, half of the total coin output of China. It has been the key workshop that designed and produced coins in the past century. But, sources close to central bank said coin production fell in the past five years.
Now, the mint has received a mandate to reinvent itself, jump on the digital bandwagon, find new clients in the private sector who might need its expertise, and explore new possibilities like e-commerce.
Liu Guisheng, president of parent CBPM, asked Shenyang Mint to shift focus from production of legal tender to development of digital cash, and explore global markets.
For the last 10 months, Liu Qiang, 46, marketing and sales manager of Shenyang Mint, has been doing just that. A veteran of Shenyang Mint, Liu has been spearheading its efforts to use the capability to make a variety of coins to exacting standards in other ways.
On his radar are private companies, both Chinese and foreign. "We are required to explore new markets besides continuing to mint traditional currency coins," Liu said.
Early this year, the mint received its first export order worth $720,000. In September, it shipped some gold medals with the image of the giant panda and bamboo embossed on them, to a US firm called Martin Weiss & Co.
Huawei Technologies Co and other big names such as Shanghai Disneyland are said to be in talks for fresh contracts for medals, medallions, souvenirs and such.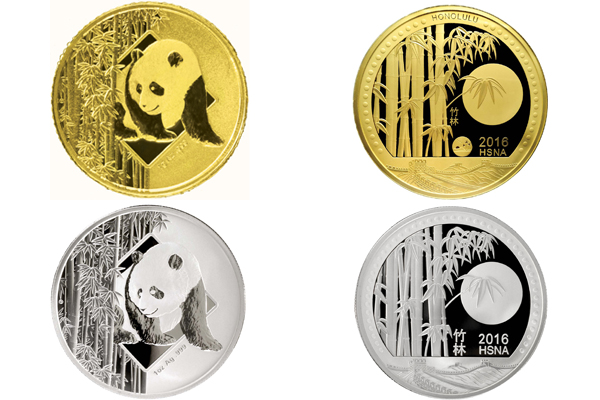 Front and back of gold and silver medals designed by Chang Huan of Shenyang Mint.
Liu Yan, head of the company's publicity department, said Shenyang Mint has also opened its online store on JD.com, one of China's leading online marketplaces. Plus, it now operates a WeChat account for marketing.
"As the nation's most important mint, we have both world-class designers and top-rated manufacturing ability. I'm sure we can win this new battle," Liu Yan said.
It's going to be a battle alright. According to the central bank's 2015 Payment System-General Performance Analysis, online mobile payments last year amounted to 108.22 trillion yuan, up 379 percent year-on-year.
What's driving online payments are digital shopping festivals such as the Nov 11 Singles Day. From 50 million yuan in 2009, Taobao.com's Singles Day revenue grew to 91.2 billion yuan last year. Compared to 2014, it was up nearly 60 percent.
All those transactions do not involve physical cash. And, these days, consumers, especially the younger lot, tend to rely on smartphones everywhere to pay for products and services.
"I hardly used my leather wallet in the past year because I pay for food, taxi and cinema tickets via WeChat or Alipay. The cellphone is now an extension of my hands. It's so convenient," said Chen Li, 30, consultant for a law firm in Shenyang.
What's more, Chen said she even debited 300,000 yuan toward down payment for her apartment using Alipay.
Shao Jianbing, professor of Business School at Liaoning University, said this has become a trend as China's rising middle class celebrates events like the National Day, the Spring Festival and the Singles Day by going on online shopping sprees, including for deals for travels, tours, leisure and entertainment.
The trend will likely intensify in coming days, Shao said. "The ongoing transformation of Shenyang Mint reflects the gigantic changes in China's economy in recent decades. It shows even age-old SOEs have to embrace reform and adapt to changing market conditions."