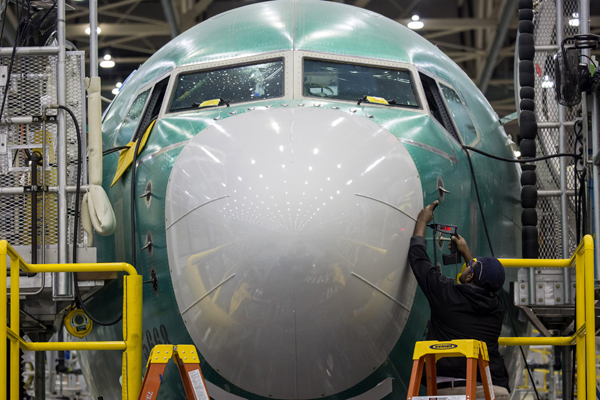 An employee works on the nose of a Boeing Co 737 MAX airplane on the production line at the company's manufacturing facility in Renton, Washington. [Photo/Bloomberg]
Boeing Co will reveal the location of its first overseas B737 completion center in China by the end of the year, as it expands its industrial footprint in the world's fastest growing aviation market, the US aircraft manufacturer said on Tuesday.
Zhoushan, a city in Zhejiang province near Shanghai, already sent its plan for the Boeing facility to the State Council after preparing for the program for more than two years, Shanghai Securities News reported. Other cities including Shenyang in Liaoning province and Xi'an in Shaanxi province, have also expressed their hope to host the new facility, with local government support.
Boeing Co and Commercial Aircraft Corp of China, signed an agreement last September to jointly establish a Boeing 737 completion center in China, after President Xi Jinping's visit in the Seattle area, home to the headquarters of Boeing Commercial Airplanes. The center, which will be joint venture of the two, will cover completion activities including cabin installation, painting and flight testing.
"The center will deliver 100 planes every year, and our team is ready for the work wherever the center is," said Ian Chang, vice-president of Boeing Commercial Airplanes, who is responsible for China operations and business development.
"The growth potential of the aviation market in China and the Asia-Pacific region is huge, we may expand the facility in the future, and manufacture aircraft besides 737, to serve other Asian customers besides China."
By 2018, Boeing plans to produce 74 jets a month, jumping 70 percent compared to its production of 44 commercial airplanes per month in 2011, the company said.
"The facility will help Boeing to increase its output of 737 aircraft, and support the growth of China's aviation market, where it is the largest for single-aisle airplanes," Chang said.
"We will cooperate with more Chinese interior suppliers, and help them to raise their capabilities and competences, from raw materials to assembly."