Internet economy driving IT sector's wealth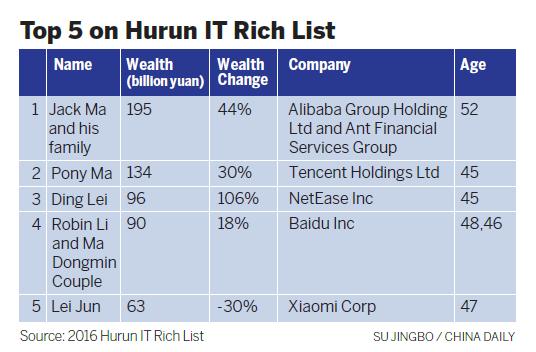 The booming internet economy is playing an increasingly important role in supporting wealth growth in China's IT industry, according to a report released on Tuesday.
According to the annual Hurun IT Rich List, the average wealth of the top 50 Chinese IT tycoons hit a record, surging 13 percent year-on-year to 26.9 billion yuan ($4 billion).
Jack Ma, founder and executive chairman of e-commerce giant Alibaba Group Holding Ltd topped the ranking of China's richest IT people for the third consecutive year, defending his position against rivals including Tencent Holdings Ltd founder Pony Ma.
Jack Ma and his family's total wealth in IT industry was 195 billion yuan, followed by Pony Ma, whose wealth increased by 30 percent year-on-year to 134 billion yuan, according to the Shanghai-based Hurun Research Institute.
Due to the rapid growth of the online gaming sector, NetEase Inc founder Ding Lei doubled his wealth to 96 billion yuan, surpassing Baidu Inc Chairman Robin Li and ranking third in the IT rich list.
Hurun Chairman Rupert Hoogewerf said: "Those entrepreneurs should be called 'super wealth creators' instead of simply 'rich people', which could highlight their contribution to China's society and economy. They've created such a lot of opportunities and jobs."
"The recent technological explosion provides a better environment for those IT tycoons. In the last two to three years, several technologies have seen breakthroughs, including artificial intelligence, virtual reality and cloud technology. Some have already been integrated into our daily lives, while others will soon be implemented," said Zhao Ziming, an analyst at internet consultancy Analysys.
Compared with an average age of 45, 52-year-old Jack Ma is the oldest among the top 10 IT tycoons.
Among the top 50 IT tycoons, five were born in the 1980s, including 33-year-old Cheng Wei, chief executive officer of Beijing-based Didi Chuxing.