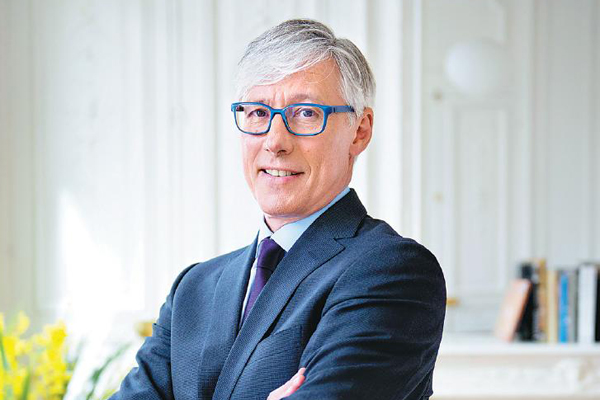 Olivier Brandicourt, CEO of French healthcare giant Sanofi. PHOTO BY CELINE CLANET/INTERLINKS IMAGE
Healthcare giant's boss keen to have China market's latest updates
Olivier Brandicourt, CEO of French healthcare giant Sanofi has a very tight schedule during his trip in China. In the early morning, he had breakfast meeting with young talent in China, the largest market for Sanofi's emerging market.
He would like to have detailed knowledge of the Chinese market's latest updates, he says, and wants to expand the French healthcare company's coverage in the country, as he stresses several times.
A doctor trained in Paris with 28 years of experience in the healthcare industry, Brandicourt has played various roles in multinational healthcare corporations. On many occasions, he saw important collaborations between foreign healthcare companies and China's local ones before he joined Sanofi in 2015, including the launch of Hisun-Pfizer Pharmaceutical Co Ltd in 2012 and Bayer's acquisition of 100 percent of the shares of China's privately-held Dihon Pharmaceutical Group.
Brandicourt recently talked with China Daily about the company's strategy. The following are edited excerpts from the interview.
What are the major drivers of growth for Sanofi after it restructured in 2015?
Sanofi's long term strategy rests on four pillars: reshape the portfolio, deliver outstanding launches, sustain innovation in R&D and simplify the organization.
In 2015, we set out a strategic roadmap for the next five-years. The healthcare industry is undergoing a transformation unlike anything we've previously seen. Continued consolidation in the sector has created a more competitive environment over the last few years and, at the same time, science has never been more exciting.
What are the priorities for Sanofi after restructuring?
The company will remain diversified, but with a portfolio refocused on areas where we can win and innovate to improve the lives of millions of people.
By building on the successes of products which give Sanofi strong advantages, we are confident that Sanofi will be well-positioned for sustained, long-term growth. Sanofi is also seeking external opportunities to enhance its growth profile.
What does the Chinese market mean to Sanofi?
China accounted for about 5 percent of Sanofi's 2,218 million euros in sales last year. It is a very important emerging market for us. As Sanofi's third-largest market, China is definitely important. Net growth of the Chinese market is between 6 percent and 7 percent, which is faster than that of many other countries.
We have been making great efforts to drive growth in China and bringing new products to the market here.
In the past 15 years, particularly after 2009, China has achieved great progress in medical services, such as expanding coverage of medical insurance. This is a great achievement and we want to be a part of it.
How does Sanofi strengthen its penetration in county-level markets in China?
Sanofi is the first multinational pharmaceutical that expanded into county-level markets through an independent business unit. In the future, we would like to continue to expand our market in counties in China. Now we have covered 1,200 counties in China.
I know that about 900 million residents, or 70 percent of China's entire populations are living in counties, so we really hope that we can continue to participate in the market and make a difference.
What is your view on the pricing system of medicines in China?
We know that in October 2015, the central government started to let provinces decide their own medicine approval and pricing. A complete pricing system is yet to be established. We have also seen that policy makers will give guidance on pricing of some medicines for certain diseases, such as cancer.
What is your opinion on price negotiations between the authorities and foreign pharmaceuticals in a bid to enable more users in China to get access to them?
If we have proper products to be included in the negotiations, we are ready for negotiations, which will potentially bring significant growth of volume. I would likely to stress products for treatment of chronic diseases in China, a very important field, with 290 million cardiovascular patients, and 114 million diabetes patients, 10 percent of the entire adults population. These patients need adequate treatment.
What are your plans for launching new medicines in Chinese market?
Five of our six important products will be launched in China by 2025. Two are diabetes-related, which is expected to be launched in China after 2019, and the other is expected to be launched in China after 2020, after we apply for approval. Another is used to treat rheumatoid arthritis.
It is expected to be launched in China in the next few years. We plan to apply for approval for the launch of a monoclonal antibody designed for the treatment of atopic dermatitis and asthma. Praluent is also a very important product that can lower your "bad cholesterol" to the level of that at your birth time.
How is the progress of Sanofi's development of vaccines for Dengue and Zika?
Sanofi Pasteur announced the first dengue vaccine approved in Mexico in December 2015, and in April 2016 the first public dengue immunization program started in the Philippines using Sanofi Pasteur's tetravalent dengue vaccine, Dengvaxia.
Sanofi Pasteur is also working on a vaccine for Zika. We announced a Cooperative Research and Development Agreement with the Walter Reed Army Institute of Research on the co-development of a Zika vaccine candidate, which opens the door for a broader collaboration with the US government.
Zika virus is closely related to dengue; it belongs to the same Flavivirus genus and is spread by the same species of mosquito. The developer can change the "coating" of Dengue vaccines when developing the Zika vaccine.
Of course the development procedure takes more time than just saying this, but we are looking at ways to get a Zika vaccine into the clinics as soon as possible.
How would you describe your working style and leadership style?
I think it is quite important to understand a market by visiting it in person and doing on-site research.
For example, I visit China from time to time all through these years. I visited a community health center in China two days ago, and I find it great.
The entire executive committee has been there to see how it works, too. In this way, I could feel the obvious differences and improvements between the current community health center and what I saw in 2011 and 2012. I think focusing on areas where we have the advantages is important to business success.
In China our strategies have three focuses: to strengthen our core business of successful products; to expand coverage to more counties, and rural population; to innovate and focus on development.
As a veteran in the healthcare sector, what views can you share with your counterparts in China?
One topic we might discuss is whether approval of a medicine to be launched in a market should be linked to the medicine's pricing.
Approval of a medicine and pricing of it should be separated. Approvals should be made based on its effectiveness, safety, and proven data to support these conclusions, while pricing of a medicine, including whether it is covered by medical insurance, should depend on the value the medicine brings to the medical system.