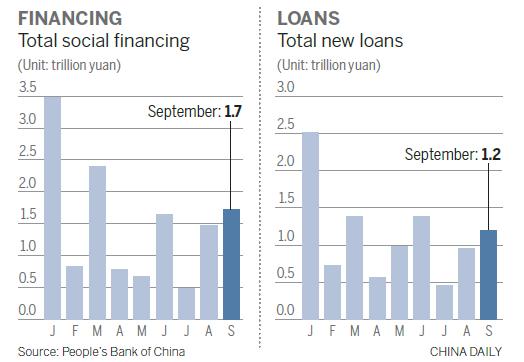 The nation's new yuan loans in September were largely supported by an increase in mortgage lending, but the contribution is expected to decline with tightened policies introduced in the property sector, economists said.
Chinese banks issued 1.22 trillion yuan ($181 billion) in new yuan loans in September, up from 948.7 billion yuan in August, according to data released on Tuesday by the People's Bank of China, the central bank.
New housing loans issued to individuals stood at 475.9 billion yuan, according to Ruan Jianhong, head of the statistics and analysis department at PBOC.
In the first three quarters, China's new housing loans to individuals rose to 3.63 trillion yuan, or 35.7 percent of new loans, said Ruan.
"The high proportion of new household lending has to do with the booming housing markets, asset allocation preferences of residents and financial institutions, said Ruan.
China's booming housing market has seen a surge in trading volume, especially in first- and second-tier cities, according to Ruan.
The release of the data came after Zhou Xiaochuan, the central bank's governor, said at a G20 meeting in Washington this month that China would rein in excessive credit growth.
Zhou said the government has been "paying attention" to rising property prices and will take steps to promote the real estate market's "healthy development".
Wang Youxin, an economist at the Institute of International Finance, a think tank affiliated with the Bank of China, said that the cooling measures would curb a sharp increase in credit growth.
Zhao Yang, chief China economist with Nomura Holdings, said the tightened policy introduced earlier this month to restrict purchases would reduce the demand for mortgage loans.
Yao Yudong, former head of the Research Institute of Finance and Banking of the central bank, said further monetary easing is not very likely.