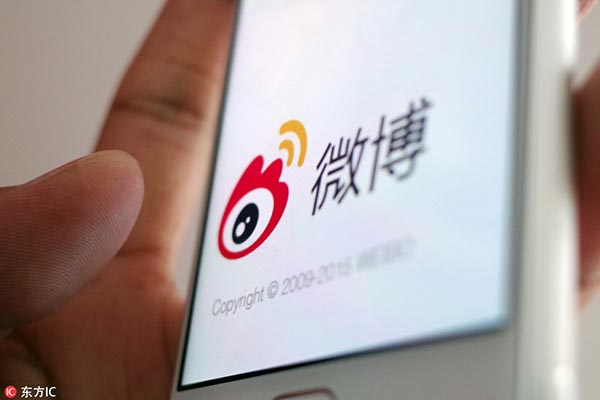 A netizen uses the app of Weibo, the Twitter-like microblog of Chinese Internet portal Sina, on his smartphone in Ji'nan city, East China's Shandong province, 17 August 2016.[Photo/IC]
BEIJING - Chinese social media giant Sina Weibo overtook its US counterpart Twitter in market capitalization for the first time ever during trading on Monday.
Nasdaq-listed Sina Weibo saw its market value rise to about $11.32 billion at one point during trading on Monday, while that for Twitter, which is listed on the New York Stock Exchange, stood at about $11.22 billion at the same time. It is the first time the Chinese microblog service has outperformed its US counterpart in market cap,
Sina Weibo's share price closed at $52.91 per share while that for Twitter stood at $16.73, with the former lagging behind the latter by about $600 million at market close.
Financial reports for the second quarter of this year showed that Twitter raked in about $602 million in Q2, more than quadruple that of Sina Weibo.
However, Sina Weibo showed stronger growth momentum in revenue and user growth. Twitter had about 313 million monthly active users by the end of Q2, up only three percent year on year, while Sina Weibo boasted 282 million monthly active users, surging 33 percent compared with Q2 2015.
Sina Weibo's share price is expected to reach $70 in mid-2017, according to an estimate by international investment bank J.P. Morgan, thanks to its strong user and revenue growth.