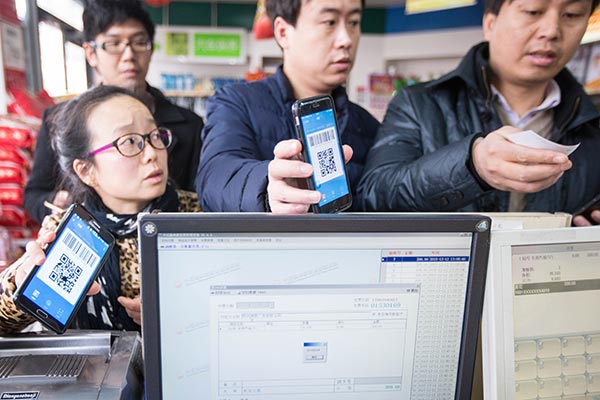 Bargain-hunters flash the Alipay Wallet QR codes on their smartphones at a Hangzhou supermarket checkout to claim a 10 percent discount on their shopping. [Photo provided to China Daily]
Electronic payments, including mobile payments, have been growing rapidly in China since 2013, according to the People's Bank of China, the central bank.
PBOC data show that during the second quarter of 2016, banks handled 32.32 billion electronic payment transactions worth 570.95 trillion yuan ($86 trillion), including 6.14 billion mobile payment transactions worth 29.32 trillion yuan. The amount of mobile payments rose by 10 percent year-on-year.
Also, in the second quarter, nonbank payment institutions handled 37.71 billion online payment transactions worth 23.35 trillion yuan, up 111 percent year-on-year.
Major mobile payment systems include Alipay of China's largest e-commerce company Alibaba Group Holding Ltd and WeChat Pay of internet giant Tencent Holdings Ltd.
Smartphone manufacturers also tapped into the growing market of contactless payment.
Following the launch of Apple Pay in China in February, Samsung Pay, Huawei Pay and Mi Pay joined the fray.
To further drive the growth of mobile payments, China UnionPay launched a new round of promotions recently, encouraging UnionPay cardholders to use its mobile payment service called QuickPass by allowing them to enjoy discounts and other benefits at nearly 60,000 online and offline merchants until Oct 16.
Ellen Richey, vice-chairman in charge of risk and public policy for Visa Inc, said earlier this year, "We've been talking about mobile payments for at least 10 years. People were starting to think this is just all talk; it's never going to happen. But it's happening now in China in a very important way.
"We think by coming to China, we can support the secure development of mobile payments so that they will use technologies like tokenization and biometric authentication with your fingerprints, eyes and voice. All those things will make mobile payments even more secure than plastic payments," she said.