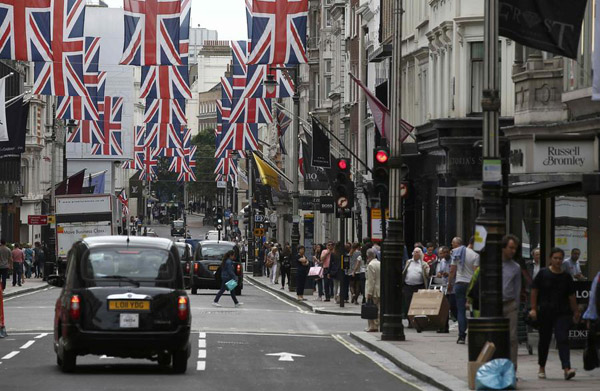 Shoppers walk past stores on New Bond Street in London, on July 9, 2016. [Photo/Agencies]
The United Kingdom dropped out of businesses' top five locations for investments for the first time in seven years as fears about the country's plans to exit the European Union added complexity to international deals, consultants Ernst & Young LLP said in a survey of executives.
British businesses rank behind investments in the United States, China, Germany, Canada and France, which make up the top destinations for deals activity, EY said on Monday in its Global Capital Confidence Barometer report, which is based on a survey of more than 1,700 executives in 45 countries.
Business leaders are concerned about geopolitical issues, such as the rise of nationalist governments worldwide and currency fluctuations, that make cross-border mergers and acquisitions more difficult, EY said. On top of the UK's Brexit vote in June, uncertainty around the US interest rate and upcoming elections in a number of countries added to perceived risks to deals.
"Brexit is a prominent example of the rise of geopolitical changes that are adding complexity to cross-border investments," according to Steve Krouskos, EY's global vice chair of transaction advisory services.
BLOOMBERG