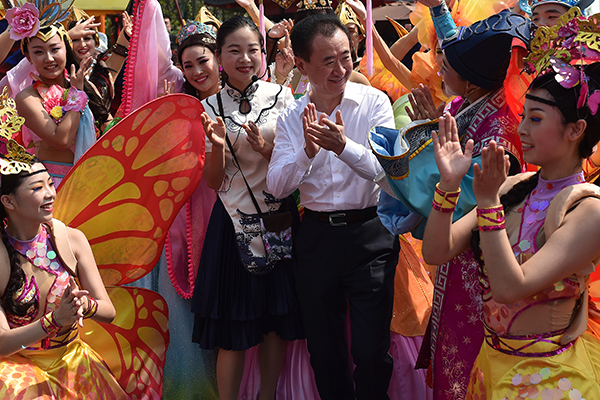 Wang Jianlin (center), chairman of Wanda Group, mingles with the performers at the opening ceremony of the 160-hectare Hefei Wanda City in Anhui province,on Sep 24, 2016. [Photo provided to China Daily]
The theme park battle between Walt Disney Co and Chinese real estate giant Wanda Group is set to intensify after a former Disneyland senior executive joined its rival, industry insiders said.
Andrew Kam, former managing director of Disneyland Hong Kong, will join Wanda as vice-president of Wanda Culture Industry Group and president of Wanda Themed Entertainment Co Ltd, according to Chinese news portal thepaper.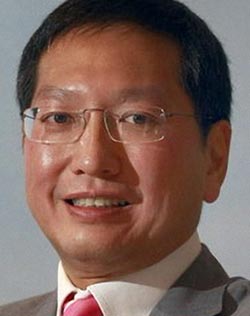 Andrew Kam, former managing director of Disneyland Hong Kong
Kam will be in charge of the overall operation of all Wanda theme parks and Wanda City projects, which is an integrated entertainment center of theme parks, hotels, theaters, shopping malls and residential apartments, according to the report.
Hong Kong Disneyland in March announced the resignation of Andrew Kam "for personal reasons" after the theme park reported a loss of HK$148 million ($18.9 million) last year-its first yearly deficit since 2011.
Wanda declined to comment on Monday.
The hiring of former Disney executives will help Wanda better learn Disney's strategy and insights, said Ben Cavender, principal of China Market Research Group.
Wanda opened the first Wanda City project in May in Nanchang, Jiangxi province, and four months later the second opened in Hefei, Anhui province, marking the start of Wanda's ambitious plan to build 15 such projects across the country by 2020.
Wanda Group said more than 1,700,000 people visited the two projects during the weeklong National Day Holiday, while Shanghai government statistics show the Shanghai International Tourism and Resorts Zone, where Shanghai Disneyland is located.
But Cavender noted that planning and developing a culture business is a complex progress, and if Wanda wants to do it correctly, it is going to have to form a very strong team and long-term strategy rather than hiring a few people and opening parks quickly to get quick profits.
The burgeoning theme park market in China has attracted several local and international players in recent years.
He Jianlin, director of the tourism management department at Shanghai University of Finance and Economics, pointed out Wanda still needs to further improve its soft power in a bid to stand out.