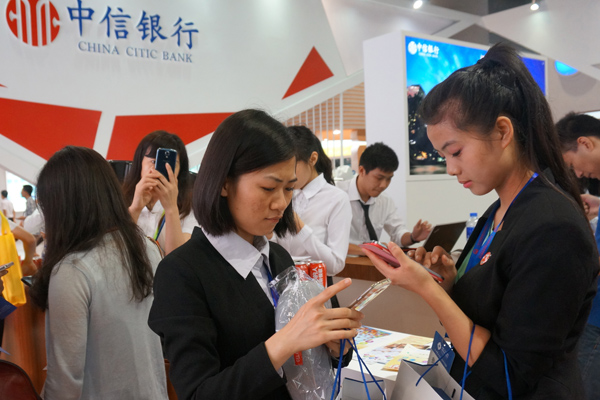 A China CITIC Bank stand at a financial expo in Guangzhou. [Photo by Ji Muling/For China Daily]
CITIC Group Corp has started marketing yen-denominated bonds to Japanese investors, the first sale of "Samurai bonds" by a Chinese mainland issuer for overseas borrowers in two decades.
CITIC, China's first State-owned investment corporation, is marketing five-year notes at a yield of 0.67 percent to 0.72 percent, and may offer debt as long as 20 years depending on demand, according to a person familiar with the matter. CITIC was one of the last Chinese sellers in the Samurai market in 1996, according to data compiled by Bloomberg.
Samurai sales have declined 20 percent from a year earlier to 1.08 trillion yen ($10.4 billion) since April 1 and issuance is running at a four-year low as euro and dollar markets have offered global issuers lower rates when swapping funds out of yen. HSBC Holdings Plc undertook the biggest Samurai bond sale in more than seven years last month when it sold notes that helped boost its regulatory buffers, and offered investors higher yields.
Japanese corporate bonds offer investors an average yield of 0.21 percent as of Friday, up from a record low of 0.09 percent in July, according to Nomura BPI indexes. Samurai bonds offer more than double that yield, according to the data.
Beijing-based CITIC Group is rated BBB+ by Japan's Ratings & Investment Information Inc, its third-lowest investment grade rating, and one grade higher by both S&P Global Ratings and Moody's Investors Service. Industrial & Commercial Bank of China Ltd, also based in Beijing, sold 15 billion yen in notes listed on the Tokyo Stock Exchange's Pro-Bond market in June. The notes weren't Samurai debt.
BLOOMBERG