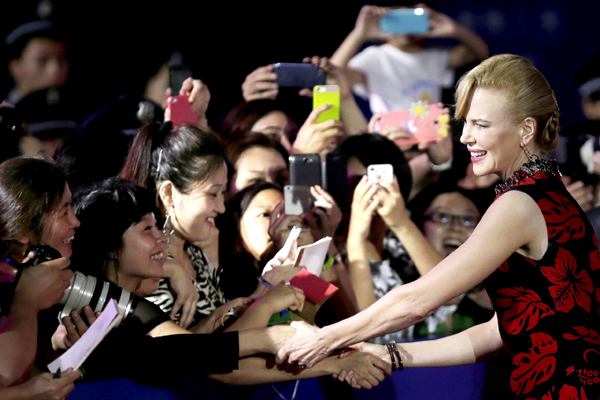 Actress Nicole Kidman shakes hands with fans at a red carpet event promoting Wanda Group's Oriental Movie Metropolis project in Qingdao, Shandong province, in this file photo. [Photo/Reuters]
Dalian Wanda Group plans to unveil a subsidy program to attract Hollywood filmmakers to its new multibillion-dollar studio in the eastern Chinese city of Qingdao, a person with direct knowledge of the plan said.
The chairman of the property-to-entertainment conglomerate, Wang Jianlin, is expected to unveil the program, which offers to subsidize 40 percent of production costs, at an event hosted in Los Angeles on Monday evening.
The subsidy will be jointly funded with the local Qingdao government, said the person, who asked not to be identified.
The subsidy will apply to feature films and television shows. Costs eligible for the rebate include stage and equipment rentals, set construction and local accommodation.
A Wanda spokesman declined to comment.
A Qingdao government spokesman said he was not familiar with the plans.
Wanda's billionaire chairman is building a footprint in Hollywood through a series of deals, part of China's growing investment in the US entertainment industry.
The company has bought Jurassic World producer Legendary Entertainment and US cinema chain AMC Entertainment Holdings. Wanda also signed a marketing and cofinancing deal with Sony Pictures, a unit of Japan's Sony Corp.
With the Qingdao studio, Wanda will be competing with dozens of US states and countries including Britain and New Zealand that have lured filmmakers out of Hollywood with tax incentives and rebates.
Incentives typically range from 15 percent to 45 percent of certain production costs, according to tax incentive specialists, making Wanda's subsidy among the world's highest.
The Qingdao studio is part of a large theme park and real estate development designed to become a Chinese version of Hollywood.
Reuters